At a time when HP is winding up its WebOS TouchPad just after its release seven weeks ago, a little known Indian company has embarked upon a $99 (INR 4,500 pre-tax) Pepper tablet posing a touch challenge for higher-end tablets by Apple, Samsung, Reliance and Airtel.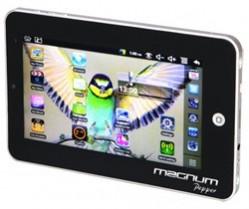 Bangalore-based Lakshmi Access Communications Systems Pvt. Ltd. has unveiled the 4.3-inch Magnum Pepper Tablet PC which works on Google's Android operating system. "We have made it affordable, we have ensured it fits the pocket," says Mahendraa Kumar Jain, the company's managing director.
More than four major players entered India's tablet market in the last one month, after the country's 3G spectrum was rolled out for private players.
Apart from Samsung's Galaxy series, Apple's iPad2 and RIM's Playbook, top Indian telecom majors like Bharti Airtel and Reliance have also introduced their own versions of tablets. Most of these brands are manufactured in China.
Samsung's 10.1-inch and 8.9-inch tablets have been priced $799 (INR 36,380) and $750 (INR 34,150) respectively while Apple's iPad 2 costs $499 (INR 22,720) for the 16-gigabyte WiFi-only unit, and Research In Motion Ltd. sells its 7-inch BlackBerry PlayBook for $617 (INR 28,100).
Airtel's unit Beetel Teletech has launched $220 (INR9,999) tablet named Magiq and Reliance priced its tablet at $285 (INR12,999).
The low-priced tablet from LACS features an 800-megahertz processor, 256 RAM and 4GB memory that works both on wireless Internet and 3G networks.
"On average, every consumer has access to three screens on a daily basis, starting with the TV, the computer screen and finally the mobile phone. However, there are a number of situations where consumers would not be in a position to access one of these specific screens despite having a need or want. This is where the LACS range of Touch Media (TMD) & Touch Infotainment (TID) Devices allow consumers to have all of the above screens in a single device operating on a single platform, without necessarily replacing any of the three gadgets themselves," explains Sharat Satyanarayana, director, LACS marketing and services.
Here are some basic features of Pepper M74V Tablet:
Pepper 7 inch LCD sensitive touch display (800x480)
pepper WIFI enabled
pepper Supports 10/100 BASE-T Ethernet LAN (RJ45)
pepper Support USB 2.0
pepper Support Micro SD card (maximum 32 GB)
pepper 3G compatible dongle
pepper 3.5 milimeter stereo headset jack
pepper G- sensors 360 degree
pepper Front camera
pepper Built in 2GB memory
pepper Android 2.2 version
pepper Supported audio formats eg: MP3,AAC,WMA,AAC+
pepper Supported Video formats eg: 3GP, AVI, MP4, H.264,720P