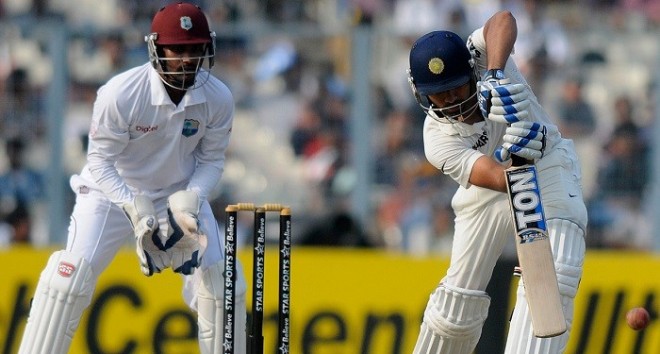 Rohit Sharma just continues to sparkle in an India shirt time and again, whether that is in the blue colours of ODI cricket, or now, as he proved on Thursday, in the crisper and more important white of the Test side.
The right-hander was at his elegant best, scoring a hundred on his Test debut, and that too when India were in more than a spot of bother against the West Indies in the first Test at the Eden Gardens in Kolkata.
Sharma rescued India from a precarious 83 for five, accumulating a measured yet brilliant unbeaten 127 to help the hosts to a sizeable 120-run lead over the West Indies after the second day, with R Ashwin also chipping in with an outstanding 92 not out.
Having made his ODI debut way back in 2007, it took Sharma 108 one-dayers and 36 T20Is, to finally make his Test debut - the longest time anyone has been made to wait -- and the 26-year-old is determined to make full use of it.
"I have lost a lot of years and opportunities and now I want to make up for it," Sharma told BCCI's official website. "When I came here, my sole aim was to carry on my ODI form. Getting a hundred here was doubly special because first, it was my debut and secondly, the team was in a spot of bother, having lost five wickets quite early. I wanted to build the innings and I am glad I could do that."
What has markedly changed in Sharma over the past year or so has been his temperament and ability to play the long innings, and not throw his wicket away after getting a start.
A Rohit Sharma justifying his talent has been something that India has been for so many years now, and after his renaissance since opening the innings and captaining the Mumbai Indians, the Test match hundred was just another emphasising point being made that he is here to stay in the Indian setup - in all three formats of the game.
"When I started playing international career, I wasn't sure about how to approach my innings -- I didn't know the art of building innings," he added. "Since then I have played a lot of first-class cricket and have done well at that level.
"But it just didn't happen at the international level, no matter how hard I tried. Now that things are going my way, I just want to keep focusing on my game without thinking what is happening around me.
"I understood that responsibility is a very big part of cricket and life [while captaining the Mumbai Indians]. And with the team, I started to take responsibility of my own game as well. As I did all that successfully, I grew in confidence, and cricket is all about confidence, when you have it, you feel that things are automatically happening exactly the way you want. You also learn how to react when put into a tough situation."