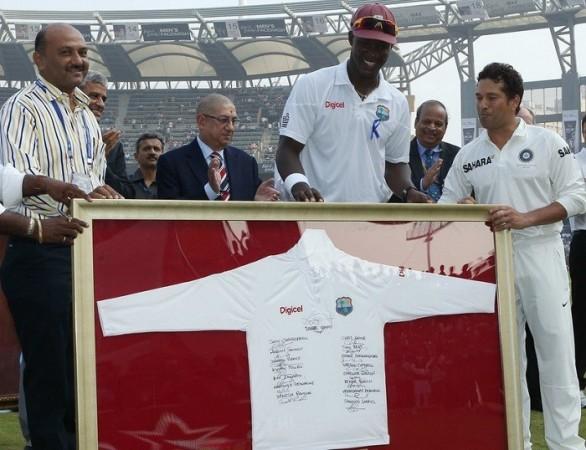 Sachin Tendulkar will have to wait a few hours before he can wield that magical bat of his in his 200th and final Test match in Mumbai, after MS Dhoni won the toss and chose to bat first on a pitch that looks like it would provide a bit of help for the fast bowlers early on.
The Wankhede Stadium will now take a little more time to fill up as the West Indies batsmen look to grab the early advantage against India in this historic Test, which is basically all about one man and one man alone.
India expectedly retained their first XI from the side that romped to an innings victory over the West Indies in Kolkata, while the visitors made a couple of changes - Narsingh Deonarine and Shannon Gabriel coming in for Veerasammy Permaul and Sheldon Cottrell.
Deonarine, who has a batting average of 29.40 and has taken 19 wickets from 14 matches, will act as the extra batsman/bowler after the West Indies were criticised for playing with just five batters in the first Test match.
WI skipper Darren Sammy will also need to chip in much more with the ball, while the likes of Marlon Samuels and Chris Gayle will be expected to roll their arm over for a few overs.
As the time wound down for start of play, maybe a bit of the emotions showed when Tendulkar walked out to field with his usual round white cap, before remembering and running back into the dressing room to put the special cap that the Indian team had presented to him.
In a great gesture, Tendulkar led his team out as the contest between bat and ball in the most momentous of occasions came to the fore.
The West Indies made a decent start, seeing out the bowlers for the first five overs comfortably enough, before Chris Gayle was sent packing.
Mohammed Shami, the bright young pacer for India, got the ball to move just a little away from the left-handed Gayle, with the outside edge carrying all the way to Rohit Sharma at gully.
The West Indies were on 25 for one with the big opener only managing 11 from 17 deliveries.
There were a couple of edges here and there, but West Indies went into drinks just one down on 46 with Kieran Powell and Darren Bravo at the crease.
Right after drinks, Bhuvneshwar Kumar bowled a peach of an over. The Indian pacer induced an outside edge from Powell but the catch was dropped by R Ashwin at first slip.
Kumar then troubled Bravo no end, with a couple of decent lbw appeals falling on deaf years.
Ashwin, desperate to make amends for that dropped dolly, was not troubling the two West Indies left-handers too much, with Bravo also getting stuck into the off-spinner on a couple of occasions.
However, such is Ashwin's run of form at the moment that he struck a big blow, dismissing Bravo. A nice flighted delivery got a little bit of bounce and found the outside edge of Bravo (29, 63, 5x4, 1x6), with Dhoni making no mistake. A huge wicket for India 15 minutes before Lunch, as Bravo was looking really comfortable in the middle.
Marlon Samuels looked really jittery after coming in, and was lucky to survive against Ashwin in the same over. However, WI managed to see off the rest of the overs to go to Lunch at 93 for two with Powell batting impressively on 45 (72, 4x4, 1x6).
It was essential for Powell to carry on a get a big score, but just like the first Test match, the WI batsmen just kept getting out after a good start. Pragyan Ojha, in only his second over, picked up the opener, with Powell (48, 80b, 4x4, 1x6) giving a simple catch to short leg after failing to strike a delivery to the leg side in just the third over after Lunch.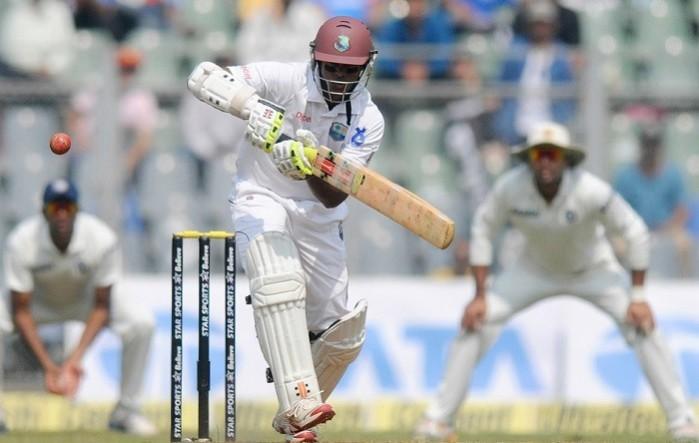 The wicket brought 150-Test man Shivnarine Chanderpaul to the crease and nothing will make him happier to mark the match with a century.
Dhoni in all-attack mode with five fielders catching behind the batsmen as Shami looked to turn on the style.
Ojha was bowling really well at the other end, creating a few problems to both Chanderpaul and Samuels, with the WI score reading 128 for three in 38 overs, 40 minutes into the post-Lunch session.
Samuels was iffy at the crease to say the least, and Ojha got his reward for a probing spell by dismissing the right-hander, who edged one straight to Murali Vijay in the slips. Samuels scratched his way to 19 runs from 59 balls as WI teetered on 141 for four from 41 overs, Chanderpaul, the only hope, looking good on 25.
That hope was gobbled up by the hands of Ashwin, who took a simple catch in the 44th over after Chanderpaul was well foxed by a delivery from Bhuvneshwar Kumar.
The West Indies staring at it on 148 for five, with the inexperienced Deonarine and wicketkeeper Denesh Ramdin at the crease.
Deonarine given a life by Virat Kohli soon after, dropping a comfortable one at second slip off Ashwin.
The India off-spinner did get his man though, as another outside edge this time was well caught by Vijay, leaving Deonarine out for 21 (24b, 1x4, 1x6).
A couple of balls is all it took for Sammy (0) to commit hara-kiri, going for an expansive shot on a turning wicket and expectedly holing out to Rohit Sharma - Ashwin's 100th wicket in just his 18th Test match.
West Indies on 162 for seven from 49 overs and Tendulkar's chances of batting on the first day looking more and more possible.
Shane Shillingford (0) lasted only a few deliveries as Ojha picked up his third wicket, trapping the right-hander in front of the wicket.
The spin twins of India having a party in Mumbai, leaving WI on 162 for eight.
Ashwin could have had another but Vijay dropped Ramdin (12) at first slip. However Ojha made it nine down as an under edge courtesy a hoick from Tino Best (0) found its way into the gloves of Dhoni - WI on 172 for nine.
The five-for was Ojha's as the final wicket of Shannon Gabriel (1) fell, stumped by Dhoni with WI finishing their first innings on a paltry 182 in just 55.2 overs.
Ojha finishing with smashing figures of 11.2-2-40-5, while Ashwin had 15-2-45-3 -- on the stroke of just the second session of the first day.
India with their two tyro openers Shikhar Dhawan and Murali Vijay began on a tear, scoring 38 runs in the first seven overs, with Sammy's decision to open the bowling not going too well.
There was more than a boundary an over in the first half hour of the Indian innings as the Windies did not help their own cause much either, letting go of a couple of deliveries inside the circle.
Fifty was breached by India in the tenth over as the hosts underlined their bright start and early dominance.
India were looking ridiculously comfortable and the only way the openers could get out was if they threw their wicket away. Dhawan (33, 28b, 7x4) obliged, holing out to Chanderpaul at deep square leg after mistiming a sweep from well outside off.
India on 77 for one in 13.1 overs, and one wicket away from bringing the great man Tendulkar into the crease on the first day.
Vijay, for the second time, got out to rapturous applause, as Tendulkar was given the most unbelievable welcome from the crowd.
The West Indies team were not too far behind, giving the Little Master a guard of honour as possibly the last international innings ever by Tendulkar became a reality.
Tendulkar looked quite good in his time out in the middle, smashing a few quite delightful boundaries, while Pujara (34, 49b, 4x4), who himself might have been overwhelmed with what was happening around him, did well to give his more illustrious partner good company, rarely looking troubled as India coasted home to stumps on 157 for two in 34 overs - a partnership of 80 for the third wicket.
A great first day for India as West Indies crumbled quicker than a quickie. Onto the second day now, and with Sachin batting on 38 (73b, 6x4) the promise of possibly the most memorable innings on these shores for a while.