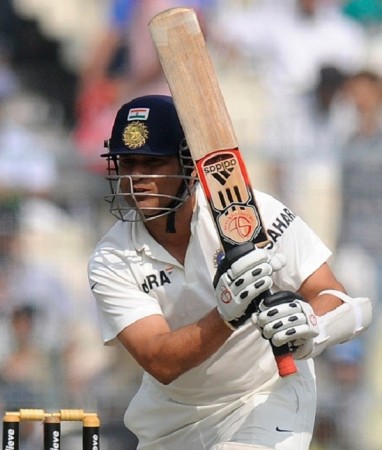 How do you comprehend what is upon us starting Thursday, when Sachin Tendulkar plays his 200th and final Test match for India?
An Indian team without Tendulkar as the mainstay has been as natural, as taken-for-granted, as cricket needing a batsman and bowler to function.
Five days - or more likely three days - later, when the second Test match against the West Indies comes to an end, that will no longer be a reality.
It is pretty much going to be in the manner of what R Ashwin said, after India romped to an innings defeat against WI in Kolkata: the magnitude of what is about to happen and how momentous an occasion it is, will only hit you after the match - once the greatest Indian batsman of all-time literally walks out of the Wankhede never to return in the whites of India.
A crazy, emotion-filled hoopla of a ride over the next few days can be expected, and the India XI will do well to just concentrate on the job at hand.
There was such a sense of anti-climax at the Eden Gardens, when Tendulkar got out for just 10; yet even if he had made a hundred on that day, there would have still have been a sense of - OK, been there and seen that, yet another hundred for the Little Master.
There was always, on the back of your mind, OK, one more Test match remains, everything planned to savour that moment can wait until then.
Now, there is no room for that. As they say: This is it, folks. The time is upon us when Sachin Tendulkar plays his final international match.
For many of the fans, who have only known of an Indian side with Sachin Tendulkar in the team, it will be a bit like Armageddon. The time when you just crawl into your hole and refuse to come out, not wanting to believe that the great little man will never take the crease again in a Test match.
Before Tendulkar fans' Armageddon, though, there is that one Test match. The one match, where we will, hopefully, see that straight drive a few more times. Maybe add that with a couple of those punches through the covers on the backfoot, with a few patented on-drives/flicks for good measure.
One last time when we get to see near-perfection in action - yes, Tendulkar 2013 is not the same version of old, but who cares.
The final match when the abnormally heavy blade - just ask Sourav Ganguy how heavy it is -- is wielded with more potency than the "Highlander."
Maybe we will get to see Tendulkar dance down the pitch against the spinners and smash them straight down the ground - the Little Master used to do that in his sleep, much before dancing down to the spinners was in fashion -- removing that belt which has shackled him for too many years of late.
One last time of seeing that bat lifted up in acknowledgement of another milestone as Tendulkar looks up to the heavens in ode to his late father, and everyone in the crowd is up on their feet in awe of another masterclass.
All that and more, one last time.