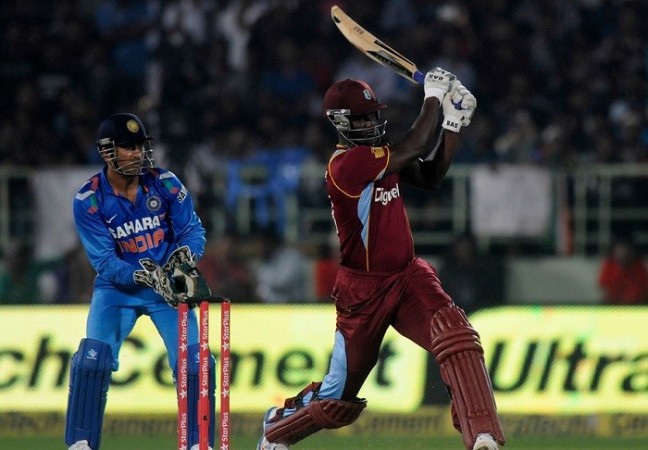 The West Indies over the past month or so, have been merely tourists, privileged visitors playing a small part in the farewell series for one of the greatest ever players to play the game.
The beginning of the one-day series, much more West Indies' forte was supposed to bring the Caribbean magic to the fore, after a disastrous Test series. However, that was not to be as India romped to a win in Kochi.
Would the real West Indies please stand up in the second ODI in Visakhapatnam then? Yes, finally!
An all-round batting performance, where Darren Bravo (50), Kieran Powell (59), Lendl Simmons (62), and Darren Sammy (63 n.o.) all chipped in, helped the West Indies chase down a formidable target of 289 on a tricky wicket which was not too conducive to shot-making, finishing on 289 for eight in 49.3 overs.
Earlier, Plan A for the West Indies with the ball, after deciding to field, would have been to get the openers out cheaply. Plan B, C, D and E would be to knock back the wicket of Virat Kohli, somehow.
While Plan A worked out pretty well, with Rohit Sharma and Shikhar Dhawan falling early, Plans B, C, D and E did not quite go according to plan as Kohli, as always, struck a measured 99 to help India to a decent total - nothing like the Australia series, mind - on a slow wicket.
Kohli seemed to be taking India to a score well over 300, before Ravi Rampaul (four for 60) pegged India back brilliantly to give West Indies a chance in the second innings.
MS Dhoni, though, as is his wont, had the final say, hitting a belligerent 51 to take the hosts to 288 for seven in their 50 overs.
The West Indies needed a good opening in the chase, but did not get it as Johnson Charles fell early, driving one straight back to Bhuvneshwar Kumar, who hung on with a little help from his midriff.
Marlon Samuels smashed a couple of gorgeous-looking boundaries, before succumbing to Mohit Sharma, in for Jaydev Unadkat, as Dhoni, standing up, took a smart catch.
Darren Bravo and Kieran Powell, opening the innings in the absence of the injured Chris Gayle, settled things down and tilted the game in West Indies' favour with a nice partnership of exactly 100 from 16.3 overs.
That alliance, which took the West Indies to 123 for three in 22 overs, set the game up for the upcoming big-hitters to whittle down the rest of the runs, as Bravo (50, 54b, 8x4), after a delightful half-century, fell victim to the impressive R Ashwin, who finished with figures of 10-1-37-2, despite finding it difficult to grip the ball in the dew.
Powell (59, 70b, 7x4, 1x6) did not last too long after the Bravo dismissal, flummoxed by Ashwin, leaving Dwayne Bravo, Lendl Simmons and Darren Sammy to run down the remaining target.
Dwayne Bravo stuck around for a while, but threw his wicket away, holing out to deep-midwicket off Bhuvneshwar Kumar for 18 (26b, 2x4).
That brought the extremely underrated finisher Sammy to the crease, and the T20 and Test skipper went about chasing down the target, at 104 from 15.3 overs when he walked in, with unerring ease.
Simmons (62, 74b, 5x4, 1x6), in a relatively unfamiliar position in the middle order, must also be given plenty of credit, staying put at the other end, and cranking a four or a six when the occasion demanded.
With the target whittled down to just 22 from 19 balls, courtesy a couple of big hits from Sammy, Jadeja picked up Simmons' wicket, trapping the batsman in front of the wicket, to give India a glimmer of hope.
Sammy (63, 45b, 4x4, 4x6) trounced that hope with a couple of slashes with his willow, a six and a four off Bhuvneshwar Kumar, before taking WI to their first victory in the tour, despite a couple of hiccups in the penultimate over.
The Indian innings was very much a slow burner, bubbling at the surface, but never really breaking free and coming out into the open to get a taste of the wide-open world.
As has so often been the case in the past couple of years, the Indian innings revolved around Virat Kohli, who fell agonisingly short of a hundred.
The West Indies' bowling performance, indeed overall performance, was so much improved - it actually looked like they wanted to win this match, rather than seem like going through the motions while holidaying for a month or so around India, which has been the case for the entire tour so far.
India's success in the one-day internationals this year has been built on the prowess of the top three. Rohit Sharma and Shikhar Dhawan giving their side a great start, with Kohli then taking the side home, whether batting first or second.
There was not to be a good opening this time around, however, as Rohit fell in just the fifth over, nicking one off the impressive Ravi Rampaul to Darren Sammy at first slip.
After the opening Kochi ODI, it became increasingly clear that this series will now be a minimium-300-or-we-go-home series; it was going to be a lot more attritional, with the pitch in Visakhapatnam also not one-sided in the batsman's favour with the ball not really coming onto the bat.
Kohli though is currently batting on a different planet, a planet that every batsman right now wants to be in; a planet where scoring runs is easier than blinking your eyes.
It was not a destroyer-innings from Kohli, though, far from it. Measuring the pitch early, the India No.3 took his time, picking up the single and twos, with boundaries not coming as often off the blade as they usually do.
Dhawan (35, 37b, 5x4), at the other end, as well looked good, scoring some typically elegant boundaries through the offside. However, the innings was cut short in the 14th over by Veerasammy Permaul, who trapped him in front of the wicket - it has been a rather forgettable series for Dhawan so far.
The onus was now on Yuvraj Singh, looking like he has forgotten to bat, confidence seriously dented by the short-pitch barrage meted out by Mitchell Johnson in the Australia series.
It was a bit of struggle early on for Yuvraj, and despite signs of him finding his old touch, courtesy a few boundaries, the inevitable came along when Sammy induced a false stroke, leaving the left-hander walking back to the pavilion after a scratchy 28 from 49 deliveries (3x4, 1x6).
Suresh Raina came in with the score 138 for three in 27.4 overs, and allied nicely with Kohli for 65 runs in just 9.4 overs.
However, just when the momentum seemed to be swinging firmly in India's favour, and that favourite 300-run score looking on the cards, the batting Powerplay came to haunt them.
Ravi Rampaul bowled brilliantly in the restrictive phase of play, picking up both Raina (23, 24b, 2x4) and Kohli, as India managed just 15 runs at the loss of two wickets in the five overs. The left-hander was the first to go, top-edging one to cover, while attempting a hoick across the line.
A couple of over later, and Kohli (99, 100b, 9x4) was walking back, falling one short of a deserved hundred, top-edging a hook shot to third man off a well-directed delivery from Rampaul - kudos must also go to Jason Holder, who took a brilliant catch low down in the deep.
As always, it was now up to finisher-unparalleled MS Dhoni to finish the innings off and the Indian maestro did it pretty well, with some help from R Ashwin (19, 10b, 2x4, 1x6), scoring a quickfire 51 (40b, 3x4, 4x6) to take India to 288.
The score proved to be just short as West Indies ran down the target levelling the series at 1-1 with the decider now in Kanpur on Wednesday.