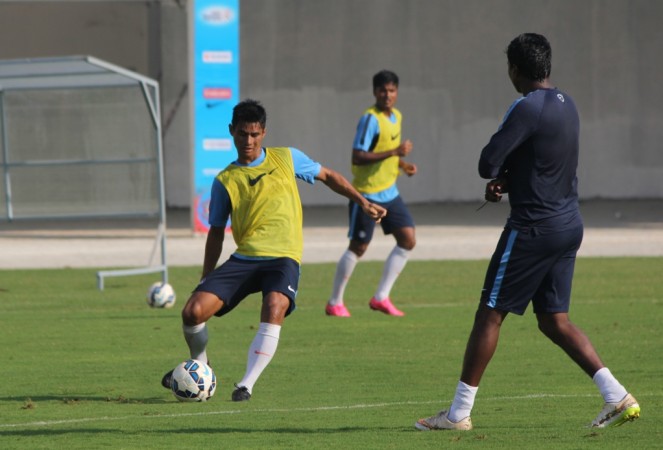 India take on Sri Lanka in their inaugural Group A game of SAFF Cup 2015 on Christmas day, and a win at home will be the perfect gift for the football fans in the nation.
However, the Lankan Lions will not be a very easy opponent. Never mind their 194 FIFA ranking, Sri Lanka won their first game of the competition against Nepal on Wednesday with a goal in the dying moments.
Mohamed Rifnas' goal in the injury time following 90 minutes, gave Sri Lanka the win.
They will be hoping for the same tomorrow, but Stephen Constantine's side, ranked 166 currently, will be expected to give everything in front of their fans in Kerala on matchday. Star midfielder Eugeneson Lyngdoh, recently voted the AIFF Player of the Year by the I-League coaches, has said that winning the competition for a record seventh time remains the team's priority.
"I am looking forward to the SAFF Cup. It's the first tournament I will be playing in my country apart from the World Cup Qualifiers. Like as any other player playing in this tournament from all the other countries, I want to win it too," Eugene was quoted by AIFF Media. "That stays our priority."
India won the prestigious South Asian Football competition in 1993, 1997, 1999, 2005, 2009, and 2011. Afghanistan are the defending champions; they defeated India in the 2013 final in Nepal.
This time, Stephen Constantine has picked players who have never been a part of the Indian Super League. There are also some players who have not even played the I-League. When asked to explain the reason behind the decision, the British coach explained that clubs don't matter, when players have the quality.
"I just don't care as to who plays where. If you are good, you will find a way into my squad," Constantine said. "That has always been my philosophy and it will always be the same. I have never gone by the names and the Clubs you play for and will not do so ever.
"If you look at the squad, we have a couple (K Zain and Arjun Tudu) from the Army and another Player (Kaushik Sarkar) from SAI, Kolkata,"
The Indian senior football team coach also revealed that defensive rock Sandesh Jhingan, midfield maestro Cavin Lobo and Royal Wahingdoh forward Seityasen Singh were released from the camp in Kochi owing to their respective injuries.
India vs Sri Lanka schedule:
Date: 25 December, 2015.
Time: 6:30 pm IST.
Venue: Trivandrum International Stadium, Kerala.
TV listings: Star Sports 4/HD 4 (India, Pakistan, Bangladesh, Nepal, Bhutan, Maldives, Sri Lanka), Moby Q (Afghanistan), Television Maldives (Maldives), Doordarshan (India), BBS (Bhutan), Bangladesh TV (Bangladesh).