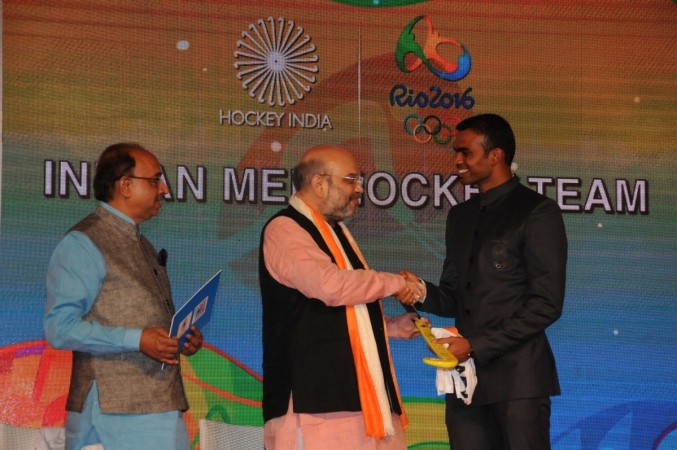 Rupinder Pal Singh scored the only goal for India as they lost to Spain 4-1 in a friendly hockey match ahead of the Rio Olympics in Madrid on Wednesday. The side, led by PR Sreejesh, once again face the Spanish armada on Thursday in their second and final warmup match ahead of the 2016 Olympics.
A dominating performance by Spain, who have never won the gold medal in the Olympics, saw Xavi Lleonart and Pau Quemada score a brace each in the first friendly, by the third quarter. The fate of the match was done and dusted at that point.
Can India, ranked 5 by the FIH (International Hockey Federation), exact revenge on Spain, ranked 11, in their second showdown, ahead of the mega sporting quadrennial event? That remains to be seen.
Sreejesh, who was named the skipper by Hockey India for the Olympics 2016 ahead of the experienced Sardar Singh, had mentioned that he and his men are keen on putting their best foot forward in the Rio de Janeiro event. "It's heartening to see the kind of support we are getting ahead of the Olympics. This will only motivate us to do better," Sreejesh, 28, stated before leaving India for their exhibition matches in Madrid.
"We hope to gain some match practice in Madrid. We leave for Rio on July 29 from Madrid. The boys are upbeat, well prepared and eager to start the tournament." he added.
Roelant Oltmans' side set a milestone earlier this year after clinching the silver medal in the Champions Trophy 2016. "We still have to show that we can repeat such a performance in every match at the Olympic Games. Our challenge is to do our best every day in Brazil," mentioned the experienced Dutch hockey coach.
"If we're able to do so we stand a good chance of a medal," Oltmans added.
All eyes will be on the India team's final performance now ahead of the Rio games. Will another loss really diminish the morale of Sreejesh and his men ahead of Olympics 2016? That too remains to be seen.
Where to follow the updates
India vs Spain hockey (second match) is scheduled to kick off at 9:30 p.m. IST (4 p.m. GMT) on July 28.
The match won't be shown on TV or will be streamed online, but the live scores can be followed on the Hockey India twitter feed.