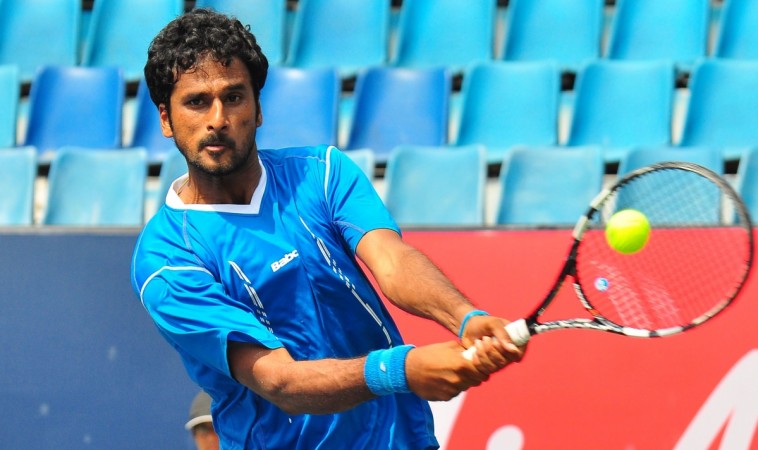 The all-important Davis Cup World Group playoff tie between India and Spain is exactly a week away, as it is scheduled for Sept. 16-18 in New Delhi. India, though playing at home, have an uphill task to overcome powerhouse Spain, and team captain Anand Amritraj has already shown surprise with the matches scheduled for evening, which he believes will benefit the visitors.
There seems to be some logical reasoning to Amritraj's case as he feels India should have played during the day, and test the Spanish players in hot and humid conditions. But the Delhi Lawn Tennis Association, which has decided to host Spain in the evening hours, wants to bring more crowd into the venue, and they have defended their stance as well.
In the last Davis Cup tie featuring India and Korea in Chandigarh, players from both the camps did not look in great shape due to extreme conditions. Saketh Myneni, who is set to feature for India in the singles contest against Spain, also suffered cramps during the last tie.
The DLTA seems to have played it safe by hosting the matches in evening as well.
"This (medical facilities) has been done especially keeping in mind that both Korean and Indian players started cramping in hot and humid conditions in Chandigarh in the last Davis Cup tie held in July against Korea," DLTA said in a statement.
"It was felt that hot and humid conditions can lead to cramping especially when players are playing five-set matches and it is important that highest level of medical attention should be made available at the venue."
Both the teams have been announced, and looking at the players involved, Spain seem favourites with stars like Rafael Nadal and David Ferrer also set to represent the European nation. Especially with Nadal and Ferrer, India's chances look slim, and their best bet, which has always been the case, will be on the doubles contest. Rohan Bopanna and Leander Paes will represent India in the doubles.
Irrespective of the result, India tennis fans will be keen to get a glimpse of stars like Nadal and Ferrer, who are established players in the ATP circuit. The winner of the India vs Spain clash will reach Davis Cup World Group 2017.