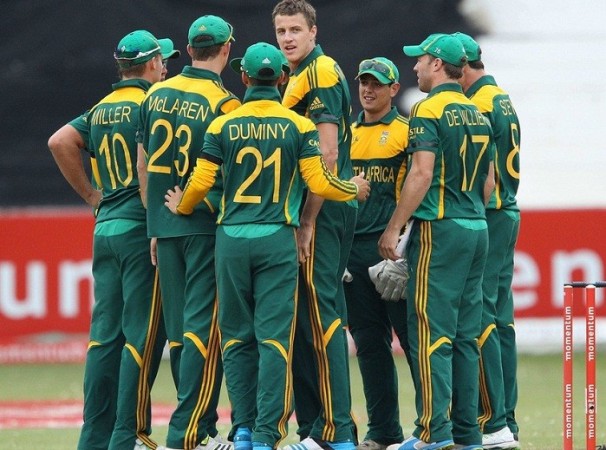 Morne Morkel is expected to be one of the biggest hurdles that the Indian batsmen will have to pass if the away side are to come away with anything like a positive result from the two-match Test series against the No.1 ranked side in the world.
And Morkel has every plan to make that particular hurdle as difficult (read fast and bumpy) as possible come the start of the first Test at the Wanderers on Wednesday.
Many have tipped India, without any of their famed "Big Four" of the modern era for the first time in a long time, to be run over by the South African pace bowlers, with the batsmen's failings in the ODI series, which the Proteas won 2-0, merely a snippet of what is to come.
"Sachin was a batsman who could bat for a long time," Morkel said. "And he put the bowlers and the opposition under pressure by batting for a long time. He was the rock for their batting. He could bat with the top-order and the middle order both.
"These young Indian batsmen are quality players, but we can clearly see from the ODI series that they are attacking batsmen who like to come at the bowling. It will be interesting to see how they go about this."
The likes of Virat Kohli, who will bat at Sachin Tendulkar's old position at No.4, Rohit Sharma and Shikhar Dhawan, so successful recently back home, will be under pressure to show they can shine on non-sub-continental pitches as well.
"Like I said, they are all very quality guys," Morkel added. "Rohit Sharma has been scoring runs off late and Cheteshwar Pujara can bat for time at number three. Even Ravichandran Aswhin averages 40 at the back-end of their line-up.
"So we need to make use of the early morning conditions with the new ball. We need to be on the money from Wednesday itself, otherwise they can score quickly and at Wanderers, sometimes it can be a high scoring game.
"Virat has done well in Australia and scored some runs when India toured there last. He is a quality player. But he is obviously going to slot into Sachin's role and he has got some big boots to fill. He can do it very well, don't take me wrong, but it is going to be a testing time for him at number four."
For a long time it used to be the pace tandem, and a lethal one at that, of Dale Steyn and Morkel to batter the batsmen from both ends; however, Morkel's role has now changed following the arrival of wicket-taking machine Vernon Philander, and the lanky pacer is more than happy playing third fiddle, especially on the bouncy wickets of the Wanderers.
"My partnership with Dale is long gone. Vernon and Dale are the new guys and I've made peace with that," Morkel said. "Those guys have been unbelievable for the team.
"I don't swing the ball, so my role here is different than at other grounds across the country. If I manage to get a couple wickets, that's great. But the most important thing for me is to stick to my strengths and my gameplan."
Nothing has really gone India's way on this tour so far, with the only practice match prior to the Test series cancelled due to bad weather. That means the India batsmen, and, indeed the bowlers, go into the first Test without any real practice with the red cherry.
"When I heard the news that they did not have even a ball at Benoni, I felt it will definitely be something in our favour," Morkel said.
"Because the pitch at Benoni can also be a bit tricky at times. I think that could have been good practice for them. So it is definitely some sort of bonus for us that they were stuck to indoor nets or open net-practice. Out there in the middle, it's a completely different ball game."