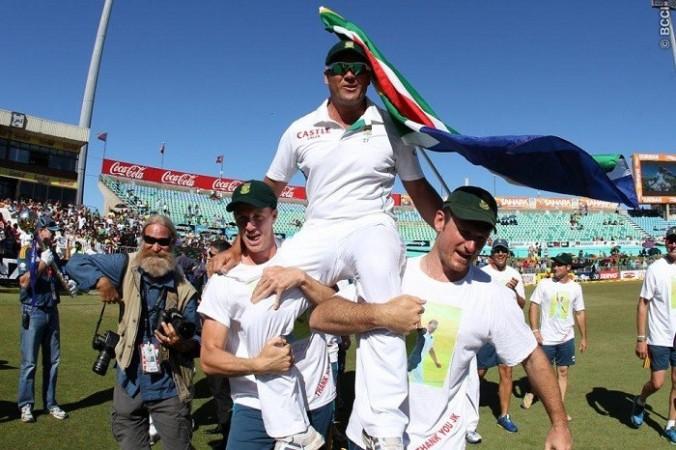 It's amazing what a little extra motivation can do for you. At the end of the first day of the second Test in Durban, Jacques Kallis had a chat with his South Africa teammates, with the gist of that conversation being he did not want to end his Test career with rain and a drab draw taking the honours.
Enter Dale Steyn, with that conversation ringing in his ears, in supreme control of his extraordinary powers, running through India on day two, and then deciding to do the same on day 5, with some help from his sidekicks as Proteas got that victory they craved to give their greatest ever cricketer a fitting send off.
India were put under the mat in the final session of day 4, with both their openers being sent back to the pavilion, leaving Cheteshwar Pujara and Virat Kohli to do the let's-bat-for-as-long-as-possible-and-take-it-from-there work, much like Faf Du Plessis and AB De Villiers did in the first Test.
However, Steyn, charged up yet again to finish the game off ASAP, had other ideas. First ball of the morning and India went from 68 for two to 68 for three as Kohli was given caught behind the wicket off Steyn, with the batsman left with a you've-got-to-be-kidding-me bewildered expression at the decision. Replays showed the ball taking a nick off his shoulder and carrying through to the keeper, but, it seemed, even the Gods of luck had decided to side with South Africa and Kallis in his last Test match.
If that wasn't disastrous enough, Steyn removed Pujara, India's seemingly impregnable wall, in the final ball of the third over of the day courtesy an unplayable delivery that angled in, before seaming a touch away after hitting a crack to knock back off stump.
With Steyn, who picked up nine wickets in the match, in this mood, and the rest of the South African bowlers roaring as well, the result was inevitable, and a tame surrender it proved to be in the end as India were skittled out for 223, the only saving grace being the away side managing to avoid an innings defeat, and a splendid innings, under pressure, from Ajinkya Rahane (96).
The result was by then a foregone conclusion, as the South Africa batsmen knocked down the needed 58 runs comfortably enough to win the Test match, by ten wicket, the series, and more importantly end that simply magnificent career of Kallis in the perfect possible manner.
There were so many avenues open for India's young guns, so impressive with the bat in the first Test, to stand up and say: we are not going down, and definitely not without a fight.
While Kohli was unlucky and Pujara received a phew-that-was-just-too-good delivery, the opportunity was there for the likes of Rohit Sharma, skipper MS Dhoni and Ravindra Jadeja to guts it out and furrow that brow of the South Africans.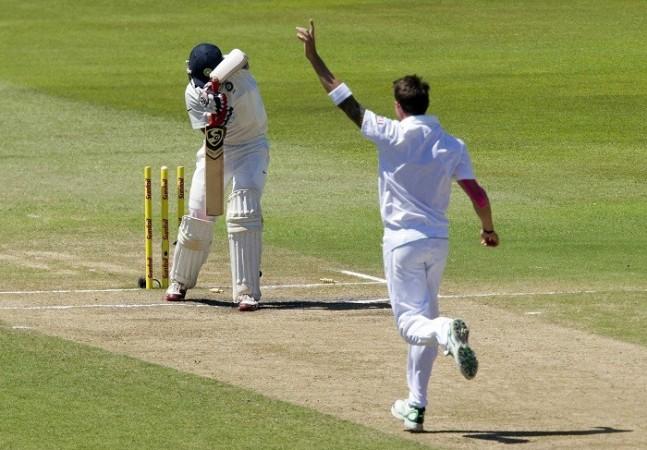 However, Rohit, his brilliant start to his Test career quickly eroding into history and away from memory, failed to capitalise on the opportunity, before Dhoni and Jadeja disappointed as well. Ajinkya Rahane was the only batsman to show some stomach for a fight, in a quite impressive innings of the highest order; it was just a real pity that no other batsmen had it enough in them to hang around with their teammate.
Rohit actually looked quite good and composed in the middle in the second innings, when previously he has hardly had enough time to impress, getting out quicker than you could say "how is that."
The right-hander showed plenty of discipline and gumption to take the attack to the bowlers, when required, a nice pull shot for a boundary and a wonderful six straight down the ground off Robin Peterson highlighting that fact.
However, in such a situation, all it takes is one lapse of concentration and/or one brilliant delivery. In a bit of both, Vernon Philander (16-4-43-3) got onto to seam in after pitching in, with Rohit (25, 46b, 2x4, 1x6) caught in the crease and the bat missing the ball by a bit, with the thud of the red cherry onto the pads spelling his doom.
Dhoni (15), another to disappoint with the bat in the series, managed only 29 deliveries before gifting his wicket away by playing a here-is-some-catching-practice-for-midwicket-shot off Robin Peterson (24-3-74-4).
Jadeja, thinking he was playing schoolyard T20 cricket, decided to smash Peterson around the park, with the left-hander succeeding in his first attempt, but only managing to give a catch to a did-he-really-do-that-gleeful Morne Morkel at mid-off.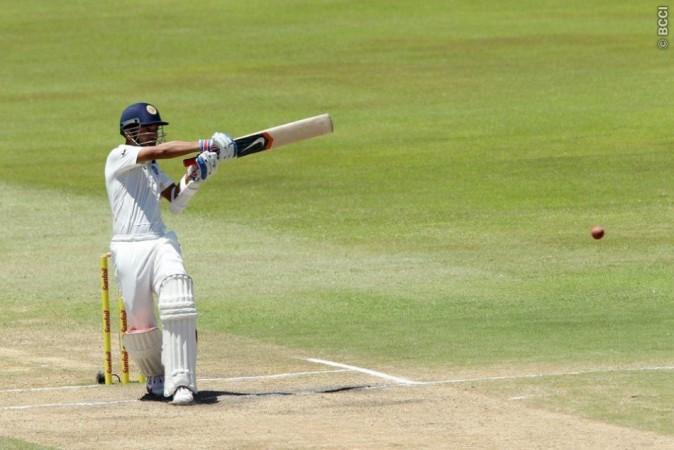 Two wickets in the same over, the 62nd, left India desperately fighting for survival on 154 for seven, still 12 runs behind, before Rahane and Zaheer Khan at least took the visitors beyond South Africa's first innings total of 500.
With the new ball due in a few overs, India would have been praying for a lot of rain during the Lunch break, but sunny weather thrived and so did Peterson, trapping Zaheer in front of the wicket to take South Africa to within touching distance of victory.
With just a 23-run lead at that point, and only Ishant Sharma and Mohammed Shami for company, Rahane needed to take the proverbial bull by the horns and tonk a few to the boundary if possible.
A few fours, and a six, did come, but then, with the brand new ball, so did those couple of wickets - Steyn in the process becoming the second fastest bowler to 350 Test wickets -- as Rahane (96, 157b, 11x4, 2x6) was the last man dismissed, and with it falling agonisingly short of what would have been a truly deserved century for the only Indian batsman that stood tall amongst the ruins.
Kallis walked out of the ground for the final time as a Test player amidst huge cheers, leaving his openers to knock down the runs, which they duly did easy as pie.