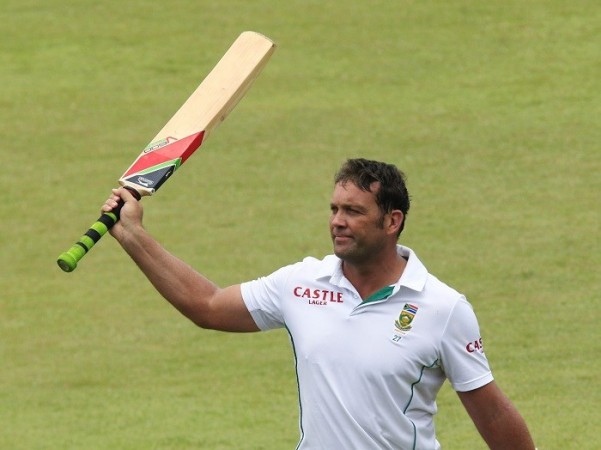 Unlike that tragedy of Sachin Tendulkar and that epic missed hundred in the final Test, somehow, there was never any real worry over whether Jacques Kallis would complete his hundred or not in his final Test match.
Such is the composure of the great man, the bubble that he stays in, that nothing else really matters - not the crowd, his teammates, or his opponents - just the next ball and what he is going to do with it.
Assured and calm as can be, Kallis eased to his 45th hundred, his seventh against India, with the simplest of singles, and the Proteas, the collective breath exhaled, kicked on in some style to put India on the mat.
Kallis was the glue that held South Africa's first innings together, with the rest of the batsmen taking full toll of the tiring Indian bowlers on a pitch that was very much aiding the batsmen, to finish on exactly 500 all out, a lead of 166 runs.
In reply, India, keen to see off the final half of the last session of day 4 unscathed, were extremely circumspect, a little too circumspect perhaps, and as a result losing their openers Murali Vijay and Shikhar Dhawan.
Vijay went early for the first time in this series, as Vernon Philander got a typical Philander wicket, pitching one up and getting it to move a tad, with the inevitable edge going to Graeme Smith at first slip.
Shikhar Dhawan was extremely cautious in his innings, after three failures, and will still be wondering just how he is not at the crease batting and trying to take India out of troubled waters.
After battling for 86 deliveries for 19 runs, Dhawan, charged down the track to Robin Peterson and smoked a delivery seemingly over midwicket, only for Faf Du Plessis, not happy with just doing his job with the bat, to pluck the ball out of thin air in stunning fashion.
That brought together India's two best batsmen this series, with Cheteshwar Pujara and Virat Kohli seeing their side through to 68 for two in 36 overs at stumps, trailing by 98 runs.
Earlier, nightwatchman Dale Steyn, looked assured, made sure he is there at the crease while Kallis got his hundred, and then unleashed a few typically tail-ender-like shots to frustrate India no end.
Steyn got to 44 runs from 94 balls, with 7 fours, before Zaheer got the South Africa pacer out, which then brought Robin Petersen in to play a real cameo of note.
Just a little before Steyn's wicket, however, saw the possible final Test match innings of Kallis, a masterful 115 (316b, 13x4), come to an end -- Ravindra Jadeja completing his five-for, with Dhoni taking a caught-behind.
Peterson picked up from where Steyn had left off, cranking the gear up to overdrive, smashing the ball to all ends of the ground to bulge that lead to a big one.
The left-hander's knock of 61 from 52 balls was littered with nine fours and a stupendous six, which he switch-hit into the stands, without actually changing his grip.
With the rain in the air, Peterson, not wanting to quell the momentum, kept going for the big runs, and finally fell to Zaheer Khan, who had copped a few from the left-hander's blade before forcing a skier to mid-off.
Peterson's wicket was followed by a slight delay due to rain, allowing both teams to assess the situation and what to do next. While some thought South Africa, 487 for eight at that point, leading by 163 runs, might decide to declare and allow Steyn and co. to smash into India, Graeme Smith decided to stay put with the bat, with Faf Du Plessis, who played another bright little innings, and Vernon Philander walking out.
Smith might as well have declared as the last two wickets fell in a hurry. Du Plessis (43, 70b, 4x4) lasted only a few deliveries, before getting run out courtesy a brilliant direct hit from Rohit Sharma. Morne Morkel did not hang around too long either, looping a catch back to Jadeja (58.2-15.138-6) for his sixth wicket of the innings.
That wicket meant South Africa finishing their first innings on a round-figure 500, with a sizeable lead of 166 runs.
Plenty of work with the bat for India to do, to ensure they do not fall at the final hurdle in what has so far been an impressive series.