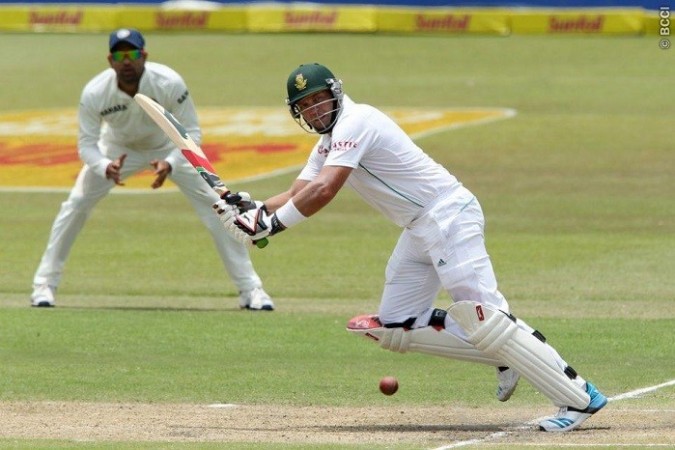 Jacques Kallis was always going to be the centre of attention, with the likelihood of the unstoppable cricketing force eventually coming into bat quite high on day 3 of the second Test at Kingsmead in Durban.
When the right-hander walked in after Hashim Amla was bowled for the third time in a row in the final ball of the 13th over of the day, he was given something that Sachin Tendulkar experienced in his final Test in Mumbai, and something that only the truly great are bestowed upon - a guard of honour, not just from his teammates, but from the entire India team on the ground, and even the umpires.
Emotions would have been running high at that moment, but Kallis is not one of the modern-day greats - undoubtedly the greatest all-rounder of his era, and arguably the best of all-time - for no reason. Composed, calm and collected, Kallis played one of his many try-as-you-may-you-will-not-get-me-out innings to pull South Africa close to India's total and put his side in a position of decent strength.
Tendulkar fell agonisingly short of getting to a century in his final Test match in Mumbai, but Kallis, impregnable and solid as a rock, took his time, refused to relent or lose his patience, and was just 22 runs short of that magical three-figure mark.
The consequence of another outstanding knock from South Africa's greatest ever player was the home side reaching 299 for five, trailing by 35 runs, on day three before rain brought a premature end to the day's play.
Starting from an overnight score of 82 for no loss in 20 overs, the South African openers began well in the morning, with both Graeme Smith and Alviro Petersen looking capable of scoring a big knock each.
However, one mistake in Test cricket and the game can change on its head, and it happened to be an unforced error from the Proteas skipper that opened up a path for India.
Smith (47, 81b, 7x4), looking to take the attack to Ravindra Jadeja, comfortably India's best bowler of the day, mistimed a hoick to mid-wicket -- extra bounce coming to the fore -- with Shikhar Dhawan completing a wonderful catch running back.
Soon enough, India would pick up a couple more wickets to put the pressure back on South Africa, with Mohammed Shami sending back Amla and Jadeja scalping Petersen with the same 113 runs on the scoreboard.
First, Amla played inside a delivery from Shami, and could do nothing but watch the ball clip off-stump for his third such dismissal in the series.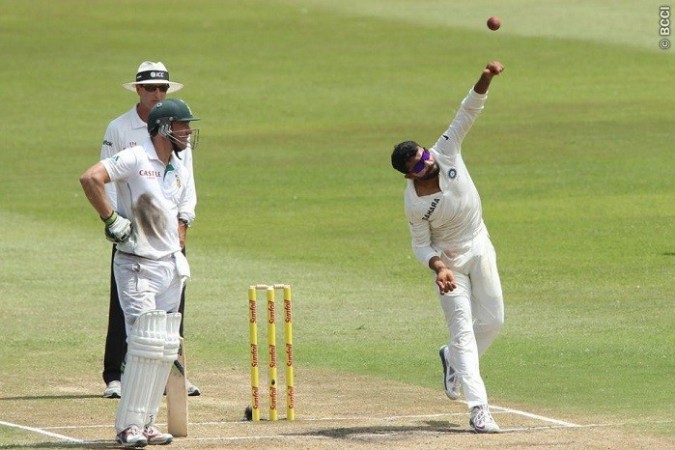 Petersen (62, 100b, 8x4), looking good and primed for a century, edged one off the very next delivery to Murali Vijay at slips with I'm-very-much-a-bowling-all-rounder-now Jadeja celebrating his second wicket.
There is no better man in world cricket for a crisis - mini, mega, ultra large - than AB De Villiers, and the right-hander, serene and elegant, calmed all nerves in his own inimitable style, easing the runs on the scoreboard, while building a big partnership with Kallis, who was more than happy to anchor the innings at the other end, like he has done so often in the past.
The experienced duo put on 127 runs for the 4th wicket, with De Villiers very much the aggressor, scoring 74 of those runs in 117 deliveries (9x4).
India needed to break that partnership desperately, otherwise South Africa would run away with a big first innings lead. And it was no surprise that is was "Sir" Jadeja that found a way through, looping one, getting enough turn, and the outside edge falling straight into the lap of Virat Kohli at first slip.
India needed to smell some of that South African blood and pick up another couple in a row, but JP Duminy came in and dropped anchor with Kallis with oh-c'mon-man-this-is-really-frustrating faces visible on the Indian players' faces.
Duminy stuck around for 82 deliveries, before, with the light seriously fading and the end of the day's play earlier than scheduled again in the offing, Jadeja, that left-arm spinner with unerring length and accuracy, struck again, trapping the left-hander in front of the wicket to consign South Africa to 298 for five, 36 runs short of India's first innings score.
With rain in the air, and light quite bad, which in turn meant only the spinners, Jadeja (four for 87) and part-time Rohit Sharma were on, Dale Steyn was sent in as a nightwatchman, and the two saw the next couple of overs through, adding one more run, before the inevitable play was called off.
It is nicely poised this Test, with South Africa, as long as Kallis (78, 224b, 10x4) is at the crease, a shade ahead. But a result is becoming increasingly difficult with the weather also deciding to have its say in the great man's final Test match.