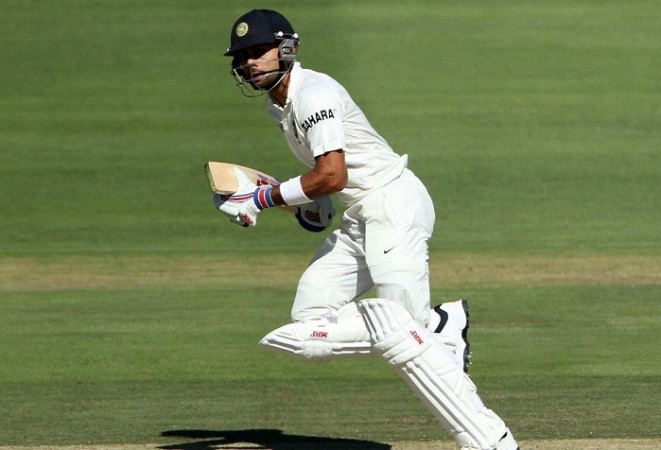 After a let's-forget-this-quickly start in the ODI series, India's young guns looked like they might be overrun by the South African battery of pace bowlers in the Test matches.
Shikhar Dhawan's smiles, the wider the longer he stays, was no longer too visible, while Rohit Sharma, the dominant batsman in Indian cricket during the home series' against Australia and West Indies, was constantly shaking his head in consternation at being beaten time and again by the masterful Dale Steyn.
Then there was Virat Kohli, India's undoubted next big thing - the aggression tempered a little, and the realisation creeping in that this was the real deal -- no more slogging every delivery for a boundary, no more taking the proverbial leather off the cricket ball - this was hard, competitive cricket, just like it should be played.
Kohli, who made a wonderful 119 on the first day of the first Test against THE bowling attack in Test cricket, revealed just how much succeeding in South Africa, the graveyard for so many batting greats, meant to him.
"[It's] funny because even during the ODIs versus Australia, I was thinking about getting a Test hundred in South Africa," Kohli said. "That was all that was on my mind. I wasn't even focussing on those ODIs or any other games we played against West Indies.
"Every training session we had I was motivating myself to do something like this. Because I know how special it has been for players to get a hundred in South Africa, it was very pleasing to do so. It is probably the best I have batted in Test cricket till now.
"It is just about building on to it and it feels nice when you plan something and it comes together, especially against a world-class bowling attack."
Plan something he did - leave the ball outside off-stump, frustrate the bowlers and make them bowl to you, and then pick them off at will. It worked splendidly on day one, with Kohli proving he is capable of taking up the mantle of batting at No.4, a slot left open following the retirement of India's greatest ever batting master Sachin Tendulkar.
"I was desperate to bat at No 4...I had been waiting for that opportunity for a long time," Kohli said. "I know these are very big shoes to fill but I am happy to have started off well.
"It's something that I badly wanted to do in Test cricket because I am so used to going in at No. 3 in ODIs. I like to be in the action early on and get in while conditions are tough and then dictate terms. I had a plan in mind that I wanted to stick to, and wasn't thinking about bowling, conditions, or the wicket. I just wanted to execute my plan."
Such was the strength of the plan, that the South African bowlers - all world-class that go by the names of Dale Steyn, Vernon Philander and Morne Morkel - were left a little puzzled on how to find a way through the right-hander's defences.
Kohli, never one to shy away from giving back a little, could not help but take a slight shot at those bowlers, who had plenty to say before the start of the Test. "I don't think they were threatening at all," Kohli said of South Africa's bowling attack. "They are quality bowlers, but it was about respecting the conditions early on when you went in and the kind of bowling you were facing after that.
"You have got to get in and back yourself throughout. If they are good enough to play at this level, so are you. I had that belief, but had to respect the good balls that are being thrown at you. At the same time, you have got to be aware of cashing in on opportunities that are presented.
"That was key to my knock today, I latched on to whatever chances came my way, putting them away for boundaries."
As Kohli mentioned earlier, he did not really require too much motivation to prove himself in South Africa. But there was one instance, shown by the host broadcasters, that perked Kohli up into pushing himself that extra bit more.
During the third ODI, a clip was shown of Kohli being hit on the ribcage off a short delivery in the first ODI with the caption "Virat Kohli softened up." While it was just a bit of harmless analysis for the commentators to discuss on what to expect, Kohli was not too amused, with the 25-year-old letting his bat do all the talking in the first innings, unfurling some truly glorious pull shots, two of them off the best bowler in the world -- Steyn.
"I always had it in mind that we were all going to get short stuff unless you attack them," Kohli added. "So rather get out playing your shots than fishing outside the off stump. I was prepared and I was watching the ball closely.
"Later on they started bowling at the fifth-sixth [stump], so I don't know where that bodyline bowling went. It is all about dictating terms when you bat. You can't always play under pressure.
"Let them know you are here to compete. We have shown we have learnt from mistakes, we have practised hard. We stuck to plans, and you will see us improving as we play next."