The Virat Kohli -- brash, full of swagger and aggression and a run-machine on Indian wickets is familiar. But, a Virat Kohli that shows tremendous discipline, leaves the ball more often than not, while also dominating is a feature that everyone has been wanting to see, but hadn't come along for the first 20 Tests of the ridiculously talented right-hander's career.
Maybe it was because most of his Tests have been played at home; maybe to play such an innings, he needed a bowling attack of the highest order on a challenging pitch for the batsmen.
Enter Dale Steyn and co. at the bouncy, pacy Wanderers; and in comes the gutsy, fighting, tremendously patient born-to-play-Test-cricket Kohli.
In an innings of the highest order, Kohli unfurled his Test match nous in spades, playing a brilliant 119 to lead an India batting show worthy of eyebrow-raising and impressed-nod-of-the-heads in a gripping day of high-quality Test match cricket between the two best sides in the world.
Kohli, with some help from Pujara and Ajinkya Rahane, left and left and left the ball alone, while taking advantage of the bad deliveries, as India, playing a Test match away from home for the first time in nearly two years, finished day one on a the-South-African-bowlers-were-made-to-sweat 255 for five, with Rahane (43, 105b, 7x) and MS Dhoni (17, 46b, 3x4) at the crease.
The first day of the first Test began with the promise of we-will-not-surrender-that-easily as the openers, Murali Vijay in particular, knuckled down -- after Dhoni won the toss and chose to bat first -- leaving the ball alone outside off stump - so important on South African pitches.
Vijay's beautiful on-drive to get off the mark boded well for India as the visitors looked to make the naysayers eat their words.
Maybe the pitch was not as built-with-demons-waiting-to-spring-and-eat-anyone-wielding-a-bat as one thought it would be before the beginning of the match, with the likes of Dale Steyn and Vernon Philander actually struggling to trouble the two openers in the first few overs.
However, South Africa do not own the best fast bowling attack in the world for nothing, and the best bowler in the world as well. Steyn, with a clear strategy in mind, attacked Shikhar Dhawan with short-pitched deliveries, and India's blazing new opener could not curb his penchant for pulling, with the end result being an almost inevitable mistimed shot and a catch in the deep.
That pumped Steyn up considerably, and ominous signs were ringing more visibly than Christmas bells during the festive season. But Vijay, to his credit, kept at it, seemingly winning the game of patience, as the opener refused to blink first with Cheteshwar Pujara, India's "new Wall", assured and impenetrable as ever at the other end.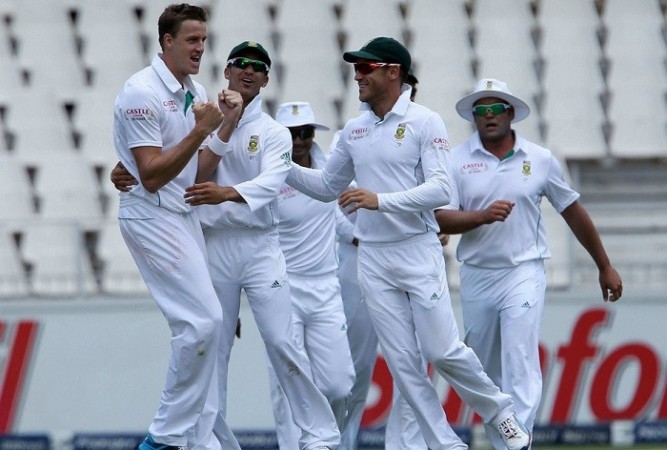 But in came Morne Morkel (19-10-27-1), South Africa's best bowler on the day, to end Vijay's stay at the crease. It was short, short and then some more short deliveries for Vijay (6, 42b, 1x4), who was made to hop, hop and hop, before a full-pitched delivery caught the right-hander off guard, hanging out his bat with no feet movement, resulting in a nice edge to wicketkeeper AB De Villiers.
Again, with India on 24 for two, there was a feeling of OK-now-the-Proteas-will-knock-India-over-like-a-house-of-cards, but yet again, India, defiant as ever, held firm.
Pujara has always put a great price on his wicket, and the going rate was well beyond the home side's bowlers' reach, while Kohli was nothing short of magnificent.
One always associates Kohli with flamboyant shots all around the ground, and while those strokes were also on view, this innings was all about leaving the ball outside the off-stump.
The result of keeping that discipline up, was the SA bowlers had to then bowl at the stumps to Kohli, who then naturally picked them off for runs. It was just proper Test match cricket, where one small drop of concentration could be vital.
The duo, who took India to Lunch at 70/2, were slowly gaining the upper hand, as the why-can't-we-get-them-out crease lines started to grow among the SA bowlers. It seemed like only the India batsmen could get themselves out, and that indeed proved to be the case after a crucial 89-run partnership.
Kohli dabbed to the leg-side off Imran Tahir, smashed all around the park for much of the day, and set out for a single, before deciding against it; by that time, however, Pujara (25, 98b, 2x4) was well on his way with no time to get back to the non-striker's end.
Rohit Sharma came in and played the game if patience for 41 deliveries of his own, before going for an irresponsible ODI drive just before Tea.
With India on 151 for four, the stage was set for Ajinkya Rahane, one of Ranji Trophy's most prolific batsmen, to stand up and say: "OK, Test cricket is where I belong," and he did just that.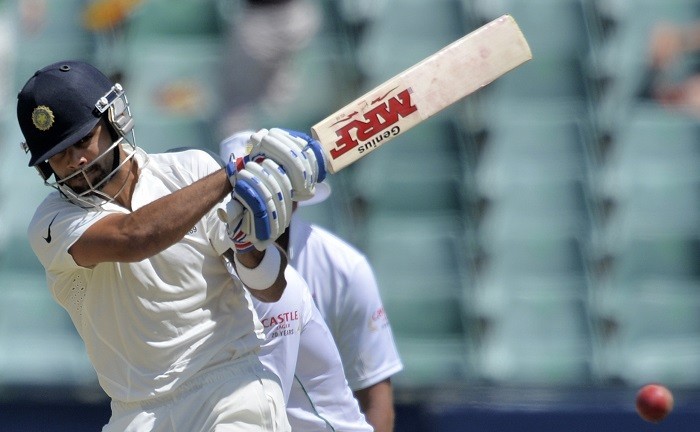 Kohli, in a league of his own, and showing exemplary fortitude, built another good partnership with Rahane, who after getting a couple of gifts from Tahir, looked quite compact and settled at the crease.
India's batting sensation heir glided to his hundred in some style, picking off boundaries at will, with a boundary and a double taking him from 94 to that magical three-figure mark. Hands aloft and ecstatic, knowing there was a lot more work to be done.
However, if there is something that Kohli needs to work on, it is making big hundreds - perhaps he can take a leaf or two out of Pujara's book. The right-hander's highest score before this match was 116, and his fifth Test match hundred would end just three runs higher.
A reach-out drive off a Jacques Kallis delivery and the ball floated to JP Duminy at cover with Kohli (119, 181b, 18x4) hanging his head in disbelief as the realisation flooded in that he had thrown it away.
The Kohli wicket came just a little before the second new ball - at 80 overs - was due, leaving Rahane and skipper Dhoni to negotiate the tricky period comfortably enough.
It is Mr. Stevens' even after day one, with Dhoni and Rahane needing to carry on when day 2 comes along tomorrow, while the Proteas will be desperate to get to the tail as quickly as possible and skittle India out to have a crack with the bat themselves ASAP.