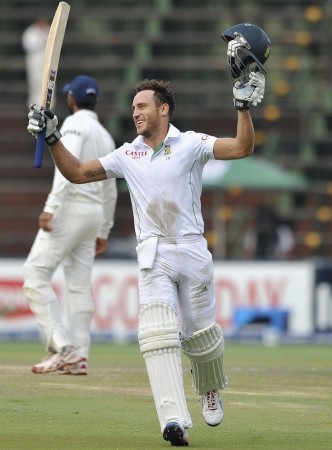 Eight runs -- two boundaries more from any of those 136 overs that they played in the second innings, and South Africa would be purring in delight at having chased down a world record total in Test cricket in the first Test match against India at the Wanderers.
However, in a strange-yet-understandable-yet-not-so-much decision, Vernon Philander and Dale Steyn, with South Africa needing just 16 runs from 19 deliveries, and three wickets in hand, chose to play it safe, refusing to give their wicket away, defending and eventually taking the incredible win out of the running.
Try as you might, SA skipper Graeme Smith refused to back down from his support of Philander and Steyn's eventual decision taken under intense pressure. "Ultimately the guys out in the middle, [did] what they thought was in the best interest of the team," Smith said. "Morne [Morkel] struggling to stand really.
"And Immy [Imran Tahir] -- he would probably say himself that you are not too sure what you are going to get from Immy. I think we as a team have to support the decision Dale and Vernon made in the middle."
Smith also revealed no message from the dressing room had gone out to the field during the final three overs. "You can't send out messages between overs," Smith said. "That is not allowed.
"The message [given to Steyn when he walked in with 19 deliveries remaining] was to set it up for the last over. Then there were a couple of maidens bowled, which made it difficult. I think ultimately we needed to give Vernon an opportunity to win us the game. I think he was the guy that probably would have done that. It never happened," Smith said.
"Ultimately the strength of this team is that there are good decision makers. Each guy is mature. They've made great decisions over a period of time which have won cricket games for South Africa. I think that's how we have got to No. 1 -- by trusting each other and trusting each others' decision making. Dale and Vernon have 100 percent support from me."
Asked if seeing a win, that looked near impossible at the start of the final day, snatched away in the final few minutes left him disappointed, Smith said: "Guys, if you want me to say that I disagree with what Dale and Vernon did, I am not going to say that.
"I think I have answered that question enough today. I think I have covered that," Smith added while saying it was India who probably had more cause for disappointment having dominated much of the Test match and been in a really strong position going into the final day to take a 1-0 series lead.
"I'd be surprised if MS didn't feel that his bowlers should have won the game for them," Smith said. "I would certainly as a captain -- 450-460 on the board, 132 [136] overs -- you have got to believe that on this surface you have the bowling attack that will do the job. Credit to our guys and the way we played.
"One thirty-two overs with a short turnaround to the next Test, there are probably a few things that they are thinking about.
"Certainly they were ahead of the game. I think they will be very disappointed they didn't win the game. There was certainly a huge amount in that wicket to work with to win the Test. Knowing the mental drain it is to play from behind from day two... Day two was an extremely difficult day to bat.
"Once we were behind, it was always going to be difficult to make a play. Credit to the guys and the ability that we have. The mental strength and the ability to find a way to get something out of this Test match, we have done extremely well with that."
It was thanks to Faf Du Plessis and AB De Villiers, who put on a 205-run partnership, that South Africa came so close to winning, and Smith was all praise for the duo. "Even at lunch today [Sunday] I don't think we believed we will get as close as we did," the left-hander added. "We were just playing. That was our chat this morning. To make sure we build a partnership. We knew, to save the game we would have to have a session without losing wickets. We got that after lunch. We played it beautifully.
"From day two we have been behind the game. I don't think many people gave us a chance to be in this position. As a team, we showed the mental strength and the ability to handle pressure and the ability to understand what needs to be done.
"We saw two of the greatest innings played in recent history. I think we need to appreciate the effort. I hope people through the emotion of wanting more always can see and respect the efforts that the team has certainly put in. We fought hard, and were able to show enough skill to get something out of this game.
"The fact that everyone is talking about Test cricket, the fact that everyone is talking about this game, is wonderful for the game of cricket. It will certainly go down as one of the great games."