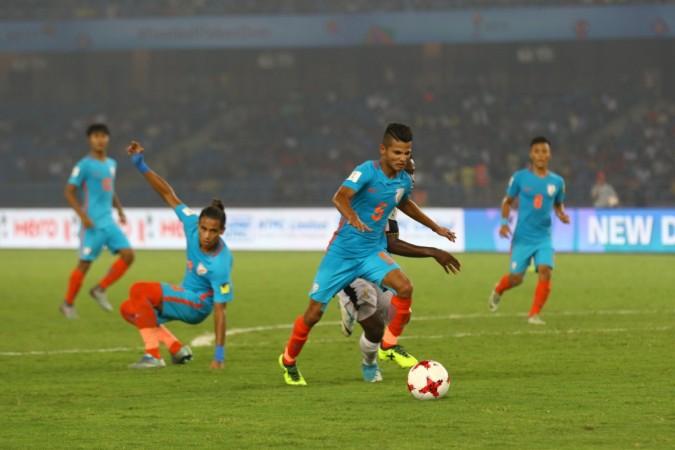 Where can you follow the promising football stars from the Indian Under-17 team who played three matches during the FIFA U-17 World Cup 2017? The answer is Saturday November 4 onwards.
Household names now, the likes of goalkeeper Dheeraj Moirangthem to midfielder Jeakson Singh are a part of the India U-19 team which is set to feature in the AFC U-19 Championship Qualifiers in Saudi Arabia, starting today.
Luis Norton de Matos' side take on the hosts at the Prince Mohammad bin Fahad Stadium in Dammam, Saudi Arabia.
What awaits next?
The Indian colts take on hosts Saudi Arabia, Yemen and Turkmenistan from Group D of the tournament. Just like the U-17 World Cup, India will play a total of three group games. Automatic qualification to the AFC U-19 Championship 2018 final tournament can only be achieved by the group topper.
In case India come second in the group, they have to rely on luck to become one of the five best runners up in the competition.
The AFC U-19 Championship will be held between October and November next year in Indonesia.
Regular football leads to a promising future
"It is very important to continue the process of developing football in the set of boys that have been provided post the World Cup," said Norton de Matos ahead of his team's match against Saudi Arabia.
"We will be looking forward to give all the teams a tough fight and aim for a win. We aim to play against the best and we are drawn in a group that have some of the best youth teams in Asia. Against Saudi Arabia, it will be a very tough clash and the fact that they will be playing at home will add to that.
"We are preparing for the future and through the process the players are bound to grow with the experience that they will get throughout. The FIFA U-17 World Cup proved that the new generation can follow football and we wish to capitalize on this growth," the Portuguese coach added.
INDIA vs SAUDI ARABIA U-19 football
Date: November 4
Time: 9:35 pm IST
Where to watch LIVE
No telecast on TV in India
Online streaming: Indian Football Hub YouTube , Saudi Sports