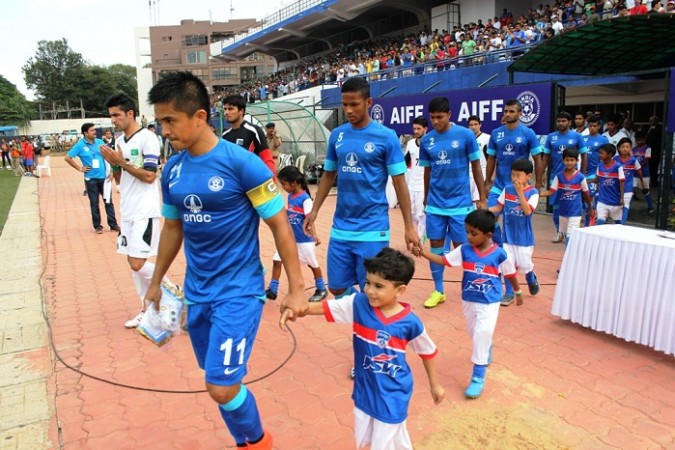 India vs Pakistan Act II takes centre-stage as the two rivals look for the bragging rights when they take field at the Bangalore Football Stadium for the second of their two Incheon Asian Games preparatory matches.
The first game, played on Sunday, went India's way in terms of the result, but Pakistan were quite impressive and could have easily walked away with a draw, if not a win.
At the end, though, what is infinitely clear is that both teams have plenty of work to do, and from India's point of view, while there were a few areas of encouragement, for the large part, the home side, despite being roared on by a raucous crowd, were pretty inconsistent.
The forward movements were not the best and neither was possession, with Pakistan, at times, making India look like the lesser-ranked team. If not for poor finishing, India's neighours would have easily walked away with a victory, especially in the final moments when they looked to take advantage of having the extra man, after Robin Singh was sent off.
"I expect Pakistan to be competitive once again," India coach Wim Koevermans told the AIFF's official website. "And hopefully we get to play with 11 men for the full 90 minutes. We aim to carry on the momentum and expect a good match.
"This will be our seventh match in preparation for the Incheon Asian Games. In the Czech Republic we played against strong senior club sides and this time we are playing an U-23 national side who are also preparing for the Asian Games. We hope for it to turn out in our favour."
India's best attacks came from the left, where left-back Narayan Das was a constant threat, while Lalrindika Ralte also showed some good touches in central midfield. However, that overall cohesion was still lacking a little, even if Sunil Chhetri showed glimpses of his class on the top end of the pitch.
"We intend to improve in our style of play in the next game," Koevermans added. "The manner in which we react and behave when we have the ball and when we don't have the ball will be significant and help us develop for the future."
The defence, which will come up against stronger opposition at the Asian Games, withstood some Pakistan pressure reasonably well with Sandesh Jhingan in particular impressing, standing tall at the back.
"The team is high on confidence but we are not complacent at all," Jhingan said. "We take a lot of positives from the first match against Pakistan. The manner in which we defended with 10 men for the last 25 minutes displayed our character.
"When you are down to 10 men, that too enjoying a one-goal lead, it's understandable the opponent team will come hard at you, and that's what they did. But despite all the effort, Pakistan couldn't crack us. We take inspiration from it as we managed to keep a clean sheet. We defended really well."
Pakistan will try to penetrate the Indian defence once more in the second match on Wednesday afternoon, and coach Muhammad Shamlan Al-Mubarak will ask for more of the same from his side.
If Pakistan lace their scoring boots on Wednesday, then India could be in for a difficult afternoon. "After the first match we have more idea about India and how they play," Al-Mubarak said. "We feel we can script a positive result in the second match."
Where to Watch Live
The match is scheduled for a 3.30 pm IST (3 pm PST) start with live coverage on DD Sports in India. Viewers can also follow the match with live updates online HERE or HERE.