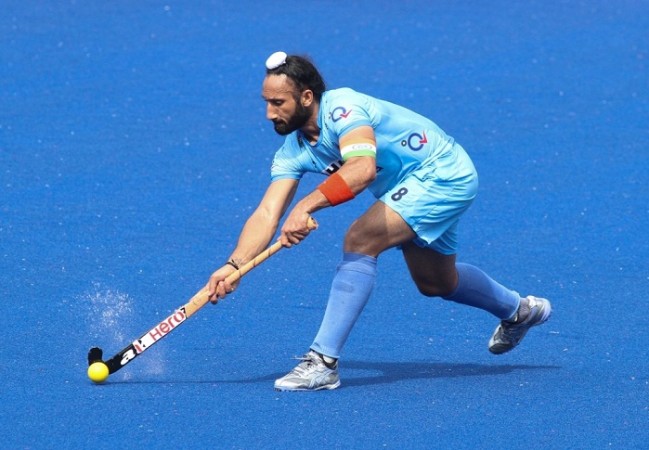 India played some brilliant hockey in the Asian Champions Trophy match against Pakistan in Malaysia to win their second game of the competition. They won 3-2 in a thrilling contest. India should be applauded for their strong comeback after going 1-2 down in the third quarter, as two back-to-back goals from Rupinder Pal Singh and Ramandeep Singh helped them clinch three points.
INDIA DEFEAT PAKISTAN 3-2 to go top of the table.
60' With few seconds to go, India hold the ball in the opposition's corner, and keeps it with them. The final hooter sounds and India walk away with three points, which has helped them climb top of the table with seven points, as of now.
57' Akashdeep wins a long corner, but India give the the ball to their own defence, and build from there. After 30 seconds or so of build-up, they come close to goal, but fails to score.
55' Five minutes to go. Can India put the game to bed or will Pakistan equalise? Anything is possible in the last 300 seconds of the match.
53' India are defending in numbers. They are aware about the importantce of three points against their arch-rivals. But, India cannot play too much on the back as it can create pressure on them as well.
51' Pakistan are still playing long balls and are trying to find their forwards, who can have a crack at Sreejesh's goal, but India's defence is firm, upto the task.
49' Pakistan are desperate to draw level. Their players are pressing high-up on the pitch, and India are trying to break on the counter.
47' Imran Butt comes up with an amazing save to deny India the fourth goal. India's Affan could have placed the ball into the back of the net rather than going for power.
46' India start strong, and are not resting on that lead, and are looking for early goals.
Final quarter. Some more goals? Goes without saying.
45' What a third quarter. Four goals were scored, and India still maintain a one goal lead.
44' Back-to-back goals for India as Ramandeep Singh guides the ball into the net for a 3-2 lead, which resulted from Pakistan' defender's error. This is strong fightback from India. GOAL!!! 3-2, India lead.
43' There is a video referral, and India earn their first penalty corner. Can Rupinder score for India? Yes, he can as he drags-flick with a powerful strike into the top corner. GOAL!!!! Score 2-2.
42' India are trying to hurry up things. They have to, as they are a goal down, and senior players like Sardar and Rupinder needs to be strong to lift the rest of their players now.
39' GOAL!!!!! Bhutta dazzles his way into the danger area from the left flank, and provides a wonderful ball to Irfan Jnr, who slots the ball into the net to help Pakistan take lead.
37' Pakistan are taking the game to India, who need to be strong on defence. India can hit on the counter from such situations as well.
34' The game is gradually opening up, and there is some end to end stuff from both teams.
33' This goal will spice up things. Pakistan seems to have stepped up a grea in the second half.
31' Pakistan start the second half in an amazing mannner, as Rizwan hits a powerful shot into the corner for a wonderful goal. Game on.1-1. GOAL!!!! India were not alert to the long ball, which led to the goal.
With the second half coming up in the next few minutes, one can expect another entertaining 30 minutes. Pakistan will go all out in search of the equaliser, which will further open up chances for India to double the lead as well.
End of first half - India lead 1-0.
30' India are three against one on the counter but Ramandeep, unfortunately, falls on the turf. It could have been a great chance for India to double their lead. That is the last move of the half.
28' With two minutes left to go for the first half, can India double the lead or Pakistan draw level? Let us wait.
26' With that goal, India are looking an even more confident side, pressing Pakistan high up.
25' Pakistan, after the initial few minutes in the first quarter, have not been involved much in the game. India have been strong, asking questions to Pakistan defence.
22' India take lead as Pakistan goalkeeper Imran Butt makes an error. Pardeep More, the goal scorer. GOAL!!!!
20' Finally something from the left for India, but Surender's cross is not good as he hits it in an empty space.
19' Pakistan attacks, and Sreejesh is equal to the task as he makes an easy save.
18' India continue to attack from the right, mostly, and try to earn a penalty corner, which will bring Rupinder Pal Singh into the picture with his drag-flick skills. But so far, India have not been successful.
16' Pakistan are trying to play the long balls, but that is of no use when most of their players are in their own half.
Pakistan started Q1 brightly, but India came back strong in the last few minutes. One hopes to witness goals in the second quarter.
15' End of first quarter - India and Pakistan have failed to break the deadlock. 0-0.
13' Most of India's attack are coming down from the right. They should also try to come straight down the middle.
11' Talwinder Singh turns, and hits a wonderful shot, goes over the bar. First real chance for India.
10' India are trying to hit those hard and low balls into the danger area from the right but the Pakistan defenders are reading those moves.
8' Despite India having some possession, at present, they have not got a clear chance at goal.
7' Akashdeep Singh dribbles past Pakistan defenders but cannot enter the danger area to take a shot. However, India are slowly getting involved in the game.
5' India finally get to see some ball, and Ramndeep receives the ball, and goes for goal, but hits it wide.
3' Pakistan are playing some good hockey, trying to penetrate India's defence, which has been below par in the past as well. It has been Pakistan all the way, and they are threatening to score.
1' Pakistan earn their first penalty of the game early on, and PR Sreejesh makes a double save to deny the goal.
The game is underway, with India wearing their traditional blue and Pakistan with green shirts.
Teams are already on the pitch, and they look focussed. The national anthems are currently being played.
4:05: Supporters of both teams have turned up for the game, and one expects more fans to come as the game progresses in the next few minutes or so. The venue already looks colourful, with flags of both teams being waved by respective supporters. They will hope for an entertaining match, with goals galore.
3:55: The all important teams for the crucial fixture.
3:40: One look at the points table suggest India and Pakistan are in second and third place respectively, which means the team that emerges victorious on Sunday will climb up the table. Top four teams from the group stages reach the semifinals of the competition. India will hope to top the pool, and play against the fourth placed team after the round robin matches in the knockout stage.
3:30: Both teams have some incredible players in their ranks, but when it comes to India-Pakistan matches, there is that additional element of pressure, which stars from both camps need to cope. It is at this juncture, where India might have a great advantage, with their players having more experience under their belt as compared to arch-rivals, who have a number of youngsters.
3:10: India and Pakistan, to a large extent, will depend on penalty corner conversion to find the all-important goals, with quality drag-flickers in both teams. However, they cannot just rely on such chances, but also look to play on the counter and score field goals.
Hello everyone. Welcome to International Business Times, India live blog coverage of the highly-anticipated live blog coverage of the Asian Champions Trophy match between India and Pakistan. This is Ashim Sunam here, and I will provide you with all the thrills and spills from the contest, which is, as always, expected to produce some amazing moments.
India, who are the highest ranked team in Asia, come into this competition as heavy favourites, and this match against Pakistan is going to be their litmus test.
Hockey fans cannot wait for the match to begin, but worry not, we are just around an hour away from the first whistle.