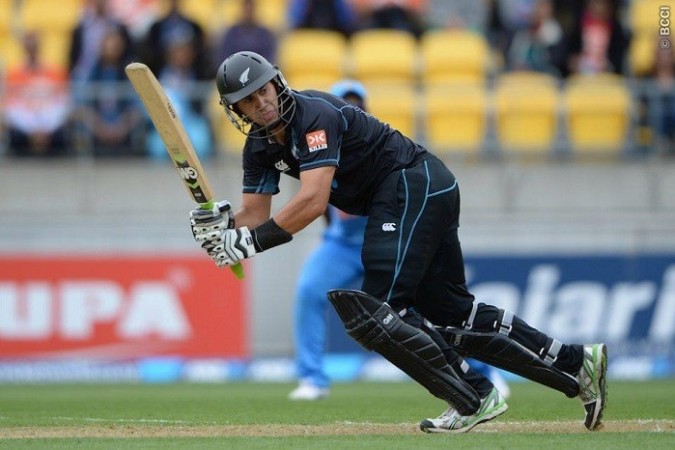 For India, Ross Taylor, Kane Williamson, the New Zealand bowlers and anything resembling a cricketer in a black shirt, have been like that math exam you always dreaded in school. You know you have prepared as well as you could have, mugged up as much as possible, strategized how you are going to go about it in your head; but yet you also know, it still, most probably, won't be enough, because maths is just that little bit smarter than you.
Williamson scored an incredible fifth half-century of the series, while Taylor, en route to scoring his second consecutive century, made the cut shot into an art yet again as New Zealand marched to yet another big total - 302 for five -- against India in the dead-rubber-but-we-play-for-some-pride 5th ODI in Wellington.
In reply, India batted like they had been blackmailed by aliens into losing the match or be invaded, showing absolutely no ambition to chase down the big target, with only Virat Kohli and MS Dhoni, yet again, putting up any kind of stomach for the fight.
The result of a punctured-tyre, train wreck, crash landing - take your pick -- kind of performance was 216 all out in 49.4 overs and an 87-run loss, which in turn meant a particularly embarrassing 4-0 series defeat.
Shikhar Dhawan and Rohit Sharma have looked all at sea more often than not away from home in the last couple of series' and the openers' batting woes continued, with both losing their wickets without troubling the scorers too much.
Rohit was the first to go, gifting a catch to Taylor at the slips off Kyle Mills, before Dhawan became the first victim off the bowling of Matt Henry, who made a dream debut, picking up four Indian wickets for final figures of 10-1-38-4.
Ajinkya Rahane also came and went before you could say "IPL" with the onus falling on Kohli yet again to pull off a miracle. Ambati Rayudu stuck around for a while, before succumbing to Henry, who had also earlier dismissed Rahane lbw.
Dhoni, who crossed 8,000 ODI runs in the match, and Kohli, with India needing a steep 226 from 26 overs, briefly raised hopes with a 67-run partnership, with the latter in particular starting to ignite. But the rate required was just too much, and soon enough Kohli (82, 78b, 7x4, 3x6) holed out at long-on off the impressive Nathan McCullum, who kept things extremely tight at one end to finish with figures of 10-1-33-1 - ironically, even the Kiwi spinners have outperformed the much-vaunted India slower bowlers in this series.
R Ashwin was yet again sent above Ravindra Jadeja, but neither lasted too long, with Dhoni (47, 72b, 3x4) waging a lone losing battle - a battle which just about symbolised New Zealand's dominance of the lopsided five-match war.
Earlier, India got off to a nice start at the top, with the much-maligned, and rightly too, fast bowlers keeping it tight and making use of a little bit of help provided from the wicket.
There was no flamboyant beginning from the Kiwi openers - Martin Guptill and Jesse Ryder - as a result, with the duo struggling to get a hold of the proceedings, which in turn brought home the inevitable wicket.
Ryder (17, 26, 1x4, 1x6) , frustrated by the dearth of runs, swung at a delivery from Bhuvneshwar Kumar outside off, but only managed an outside edge which Ajinkya Rahane pounced on at the second attempt. Guptill joined his opening partner in the hut a few overs later, Mohammed Shami taking a catch off a leading edge at mid-on off Varun Aaron, who yet again proved to be a tad too wayward and with it expensive.
Dhoni will be wondering what the point is of picking up the openers early, as every time India get themselves in a decent position, in walk Williamson and Taylor to tonk the Indian bowlers with consummate ease.
The two wickets were to India's detriment really, as it brought together Williamson and Taylor, two players who have put India to the sword in tandem time and again this series. The duo took the game away from India in the 4th ODI with a brilliant partnership, and there was no budging from the often-seen story yet again.
Williamson, seemingly made of sterner stuff than the Great Wall of China, has been in ridiculous touch, hardly putting a foot wrong in the ODI series, and the right-hander just eased the Indian bowlers around the Westpac Stadium like he was playing in his backyard with some of his mates.
There is a bit of that apprehension that seems to creep in amongst the India bowlers every time these two come to the crease, and Taylor and Williamson made full use of that advantage, allying for 152 runs from a mere 151 balls in serene fashion.
Williamson was the one that took charge of the partnership, caressing a couple of delightful boundaries, with a six over extra cover in particular worth its weight in gold. Just when the 23-year-old looked primed for a hundred, Aaron struck, with Williamson (88, 91b, 8x4, 1x6) slicing one straight to Rahane at point, and with it falling 12 runs short of what would have been a deserved century.
New Zealand needn't have worried too much, though, as Taylor took over, smashing his first six of the series - yes that's how in control Taylor has been against India - while Brendon McCullum chipped in with a typical little cameo of 23 (18b, 1x4, 1x6).
Taylor (102, 106, 10x4, 1x6) stormed to his ton in the 48th over with a boundary off Shami, before holing out in the very next ball going for a big shot. Luke Ronchi (11 in 5) and Jimmy Neesham (34, 19b, 3x4, 2x6) grabbed a few boundaries in the final couple of overs, though, to take NZ one more big score.
The total proved to be enough, and then some, as India yet again proved they are no better than a mediocre club side in away conditions - a stiffer test in the Test matches now await.