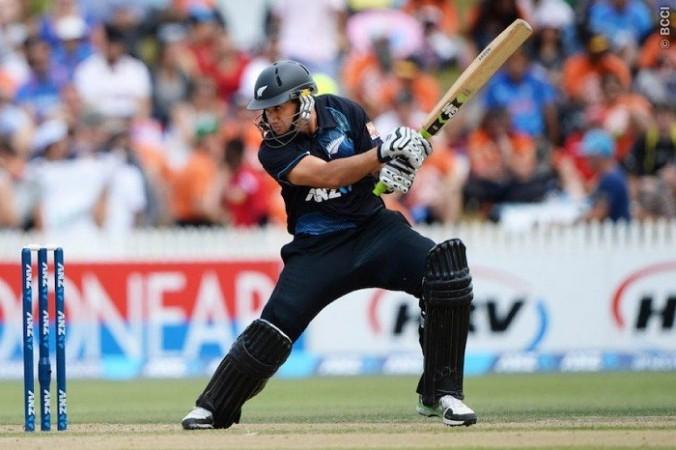 Ross Taylor and New Zealand, at Seddon Park in Hamilton, were like a precision missile in a no-way-I'm-going-anywhere-but-where-I-have-to-zone, systematically carving out the Indian bowlers, who yet again disappointed, to make the target of 279 look as easy as a lazy Sunday morning.
In an as-good-as-it-gets target chase, New Zealand pulled out a comprehensive seven-wicket victory over India to seal the five-match series 3-0.
MS Dhoni won the toss and actually decided to bat first, owing to a couple of interesting changes to the India team, and what followed was the same old story -- of the Indian top order not able to push through and break those it-just-keeps-growing-higher-and-stronger walls down, leaving the skipper and I-nearly-won-the-last-match-for-India-out-of-nowhere Ravindra Jadeja to send out that rescue ship and prevent their side from sinking in seriously troubled waters.
After India managed 278 for five from their 50 overs, New Zealand batted absolutely brilliantly, timing the chase to perfection, with Taylor (112 n.o., 127b, 15x4) leading from the front, with an unbeaten hundred, in some style to take his side to 280 for three in just 48.1 overs.
The fifth and final ODI on Friday, after three New Zealand wins and that amazing tie in the third one-dayer, is academic now, with Dhoni and co. set to play for some much-needed pride.
New Zealand got off to a rollicking start, with Martin Guptill and Jesse Ryder taking full toll of the please-hit-me deliveries and racing to 50 within seven overs.
With India not exactly defending a we-can't-get-to-that total, the away side needed a wicket, and got one courtesy Varun Aaron, who apart from that was rather poor, with Ryder (19, 18b, 4x4) playing one onto leg stump.
Guptill (36, 27b, 6x4, 1x6) also went soon after, trapped in front by Mohamed Shami as India sniffed a possible win. Those hopes were raised when the spinners - Ravindra Jadeja and R Ashwin came on - started to get some turn and visibly trouble the Kiwi batsmen Taylor and Kane Williamson.
However, the duo played out the initial spell from the spinners rather well, not taking any risk, before killing India softly. The blueprint was pretty simple really - take the singles, and make sure you put away the bad ball, with Taylor, in particular, severe on any delivery marginally wide of off stump.
Williamson eased to his fourth 50 of the series as the two allied for 130 runs, with Taylor looking more and more formidable as the innings wore on.
Jadeja, the one small Indian spark in this match, sent Williamson back with a brilliant piece of individual fielding off his own bowling, but Taylor, in the mood, and Brendon McCullum (49, 36b, 4x4, 3x6), at his six-hitting best, made the final 91 runs from 15 overs look like child's play.
Changes were afoot in the Indian camp for the 4th ODI in Hamilton against New Zealand, with Dhoni deciding he had had enough with the same old formula, and taking a chance with a couple of new faces and another bold move or two.

The one that caught the eye the most was Virat Kohli being sent to the top of the order to open the innings along with Rohit Sharma, with Shikhar Dhawan, after his woeful last couple of months, deservedly getting dropped. Ambati Rayudu and Stuart Binny, handed a debut, also came in with Suresh Raina also sitting the game out.
The move to send Kohli up the order would have worked two ways - either termed as genius, or as what-on-earth-were-you-thinking-sending-your-best-batsman-up-the-order-when-he-was-in-supreme-form-at-No.3. Well, for this game at least, it turned out to be the latter, with Kohli (6) unable to make an impression as an opener, top-edging a pull attempt off Tim Southee, who finished with excellent figures of 10-1-36-2.
India began slowly and Kohli was followed back to the pavilion by Ajinkya Rahane, the man who took the former's spot at No. 3, with another short delivery and attempted pull leading to the India batsman's demise - Kyle Mills the wicket beneficiary this time around.
With India on 22 for two in 8.2 overs, it was let's-take-out-time-and-build-a-partnership time now for India with Rohit and Ambati Rayudu making circumspect their best friend. India were eking along at around three runs an over for the first 20 overs or so, but the longer Rohit and Rayudu stayed at the crease, the more chances the duo had of cutting loose on a slow pitch which demanded time in the middle to unleash those crisp strokes.
That spark was lit in about the 20th over, with Rayudu taking to off-spinner Nathan McCullum, while Rohit also found the confidence to go big on a couple of occasions. However, whenever India have threatened to unleash during this series, they have always been pegged back by the Kiwi bowlers, and that proved to be the case with Rayudu (37, 58b, 3x4, 2x6) falling right when he looked ready to start finding the ropes with aplomb.
No prizes for guessing it was the short ball yet again that proved to be the deciding factor, with the right-hander, like so many others before him, top-edging a pull shot to wicketkeeper Luke Ronchi off Hamish Bennett.
Dhoni came in determined to settle things back to normal quickly, only to witness Rohit (79, 94b, 6x4, 4x6) glide one off his bat to Ronchi behind the wicket off Kane Williamson. R Ashwin, after his impressive half-century in the 3rd ODI, was sent in at No.6, but could not carry on his good form with the willow, gifting a catch to third man.
That brought the match-tier of the last match - Jadeja - to the wicket, with still 17 overs remaining in the innings. Confidence is the mother of success, and the left-hander (62, 54b, 8x4, 2x6) looked composed right from the off, while keeping his head in the game, with Dhoni (79, 73b, 6x4, 3x6), cooler than the coldest icicle in Antarctica, just doing what he does best - finish the innings.
After playing low-risk cricket for the first few overs, the Chennai Super Kings duo switched on that here-comes-one-boundary-after-another switch, allying for 127 runs in 101 balls to push the total to a competitive 278 for five, leaving New Zealand, without their all-rounder extraordinaire - Corey Anderson - to haul down a target for the first time in the series.
Binny, padded up for a long time, and that nervous energy coursing through, was forced to sit on that bench without getting a chance to wield that heavy willow for the first time in international cricket, while only managing one over in the second innings, making it a debut to forget for the all-rounder.