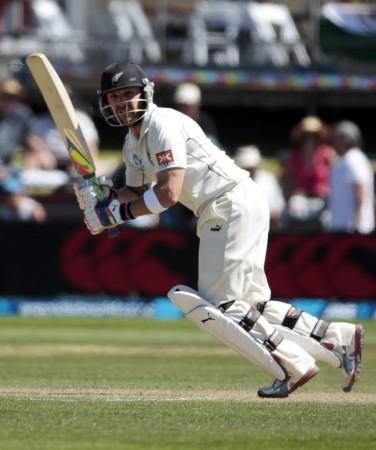 India are inculcating a rather sooner-you-lose-it-the-better habit of getting to within sight of a Test match victory, only to let it slip out of their hands time and again.
It happened in the first Test against South Africa, and to a certain extent in the first Test match against New Zealand, where India fell 41 runs short of the target.
At 94 for five on Day three of the second Test against New Zealand at Basin Reserve in Wellington, India were poised for even an innings win, with only Brendon McCullum the real threat to their hopes of sealing a much-needed Test match away victory.
However, that threat proved to be a little too difficult to overcome, with McCullum, along with BJ Watling staying firmer than a bullet-proof wall, putting on an unbeaten 158 runs, and denying India in outstanding fashion.
McCullum remained unbeaten on a brilliant 114 (237b, 14x4, 1x6) runs, with Watling giving his skipper tremendous company at the other end on 52 runs having used up a quite morale-sapping 207 deliveries - New Zealand finishing Day 3 on 252 for five, for a lead of six runs.
India began on a perfect note on Day 3 morning, with Zaheer Khan inducing a tickle from Kane It-ain't-easy-to-get-me-out Williamson in just the second over of the day.
Hamish Rutherford, though, looked good after a long time for New Zealand, playing a few wonderful shots, and with Tom Latham determined to make an impact on his debut, after getting out for a duck in the first innings, at the other end, India looked in for a long morning.
But then came Zaheer's experience to the fore, bowling those carrots just outside off stump time and again to the batsmen, with Rutherford, after making 35 (55b, 6x4) nibbling at one and finding the thinnest of edges through to MS Dhoni.
Latham and McCullum hung around for a while together, allying for 35 runs from 17 overs, before Mohammed Shami found his first wicket of the innings, with Latham (29, 64b, 3x4), feeling outside off and getting a nick through to the wicketkeeper.
That brought up Lunch, with the Kiwis on 87 for four, with Corey Anderson and McCullum, two natural stroke-makers, given the job of knuckling down and frustrating the bowlers as much as possible during the second session.
Anderson, however, lasted just six deliveries, lobbing one back to left-arm spinner Ravindra Jadeja, leaving New Zealand on a precarious 94 for five.
What followed was not in the script - not the Indian one at least - with McCullum and I-can-bat-as-well-you-know Watling frustrating, irritating, exasperating and grating India no-end.
McCullum did wonderfully well to curb his I-want-to-smoke-the-leather-off-the-ball-at-every-opportunity instincts, while Watling was grittiness personified as New Zealand wound down that deficit slowly, but surely.
From 94 for five in 37.2 overs, it went to 150 for five in the 68th over, before the Kiwis found themselves just six runs short of the 200-run mark after 80 overs, which inevitably brought the new ball.
However, even with a spanking new red cherry in hand, Zaheer and co. could not break through the defences of I'm-the-skipper-and-thou-shalt-not-get-me-out McCullum or as-compact-as-you-can-get Watling, with the former unfurling those cover drives and power shots as the day wore on.
McCullum brought up his hundred in the best way possible, smashing Ishant Sharma, who could not buy a wicket, for a huge six over long-on, before laying down the anchor again and tiring out the Indian bowlers to great effect.
McCullum put New Zealand into the lead courtesy a streaky four through gully off Ishant, and the complexion of the match changed immediately to - now can the Kiwis post a target which India will struggle to breach?
Plenty of work for both sides to do on Day 4, but New Zealand will come on Monday morning feeling much better about themselves, with the pressure on the away side's bowlers to find that wicket-taking feeling again.