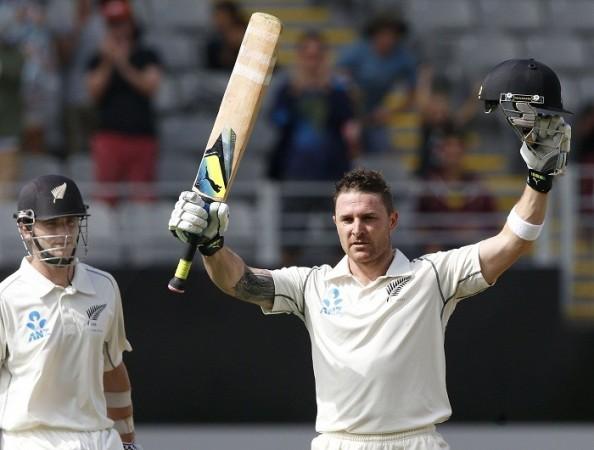 Kane Williamson has been India's bane this entire tour so far. The now-that-guy-is-good right-hander continued to torture, torment and punish the Indian bowlers, slamming a brilliant century to put New Zealand firmly in control after day one of the first Test at Eden Park in Auckland.
Ross Taylor was the man to occupy the crease for pretty much the entire one-day series with Williamson, but this time the latter had another partner in skipper Brendon McCullum, who was equally effective and brilliant in flaying the opponents in severe fashion.
The result of a 221-run partnership for the fourth wicket between Williamson (113, 172, 10x4, 2x6) and McCullum (143 n.o., 210b, 18x4, 2x6) was a dominating first day score of 329 for four, with the latter still very much at the crease and looking on course for a double hundred.
India, while coming up against some outstanding batting - Williamson will never want to stop playing India ever again -- also had only themselves to blame with sloop fielding and more poignantly catching just exacerbating matters - it's like the away side have forgotten just what it is like to put in a concerted effort on the field to back their bowlers up, with heads sagging and that vibrancy evaporating quicker than an ice cream on a hot summer's day, the moment the opponents look like grabbing any semblance of control.
Control was not New Zealand's at the start of play -- delayed by 15 minutes -- with MS Dhoni, for the sixth consecutive time on the tour, winning the toss and choosing to bowl first. That choice, in overcast conditions, looked like a prudent one, when Ishant Sharma struck in the tenth over, inducing a thick edge off Hamish Rutherford (6), which Ajinkya Rahane did well to latch onto gully, for his 150th Test wicket.
A smile or two crept up after that New Zealand wicket, and it grew wider just a little over two overs later, when Zaheer Khan squeezed one through the bat of the struggling Peter Fulton (13) to garner a favourable lbw decision.
That meant that deadly duo of Williamson and Taylor were at the crease, and you could not fault India for dreading the worst. However, if-only-he-could-be-more-consistent-and-use-his-head-while-bowling Ishant deal a big blow, dismissing the I-score-runs-when-I-want-to-right-now Taylor (3), who aired a shot to Ravindra Jadeja at mid-off.
India should have smelt blood and gone for the kill, with New Zealand precariously placed on 30 for three, but the home side hung on till Lunch, which was taken with the score reading 54 for three in 24 overs.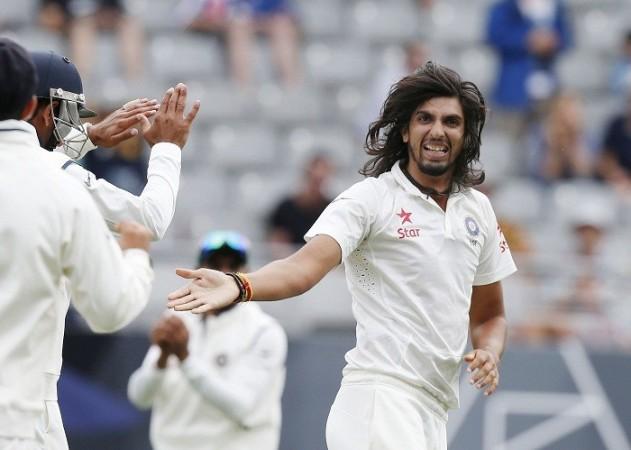 The first session happened to be the only one where India really had a sniff of a chance, with Williamson and McCullum categorically battering the bowlers with their willows from there on.
Try as they might the India pacers, or Jadeja, could not find enough penetration to trouble the two right-handers a great deal, and when they did induce a false shot or an edge, the fielders weren't alert enough to gobble up the opportunity.
Sloppiness seems to have crept into this India side like a plague bent on destroying from within, and the sooner Dhoni and co. sort this particular problem, the better; otherwise there is no way India, winless in their last 12 games outside their home, are winning a Test match away anytime soon.
Williamson, who had five consecutive fifties in the ODI series, has looked like one of those people who find a cosy room to snuggle in and never want to get out. For the right-hander the room is that 22-yard pitch with the India bowlers his own personal remote.
McCullum, seeing Williamson and Taylor dominate earlier in the tour, seemed to say "Ok, I will have some of these juicy hit-me balls for myself," and continued on his merry way, making the bowlers look like a cornered animal with no exits in view and only carrying the hope of prayer.
That prayer was answered to a certain extent in the first ball of the 69th over, when a tired-looking Zaheer bowled one down the leg side, with Williamson, probably feeling sorry for his opponents, deciding to edge it to Dhoni, rather than flick it for another boundary.
However, it was long after the duo had completed their centuries, with Williamson, no doubt, happy to reach that three-figure mark after five consecutive half-centuries.
India's misery did not end there, though, as Corey I'm-going-to-be-a-millionaire-after-the-IPL-auction Anderson (42, 78b, 5x4, 1x6) stepped up and comfortably saw off the rest of the day in the company of his skipper McCullum, allying for an unbeaten 78 runs, to drive India to the never-seen regions of underground.
India in deep trouble in an away Test match yet again, even if it is just the first day, and there is so much more cricket to be played. They will need some seriously inspiring bowling followed by some stunning batting in the second day to hold any hopes of taking a 1-0 lead in the two-match series.