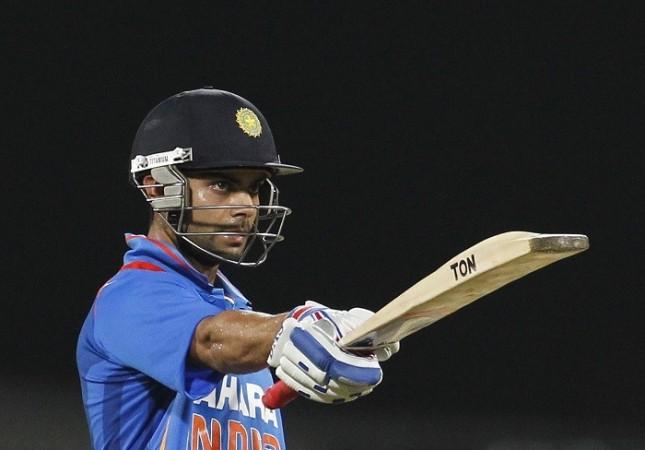 Virat Kohli and MS Dhoni threatened to pull one of those escape acts which the likes of David Blaine and Criss Angel would have been proud of, only for Mitchell McClenaghan and that great enemy - the short ball - to bring those hopes to an abrupt end in the first ODI at McLean Park in Napier.
Chasing a target of 293, India stumbled and fumbled to the short ball - four Indian batsmen fell to that delivery - before Kohli (123), with a magnificent century - the first time India have not won while chasing when Kohli has scored a hundred -- and Dhoni (40) nearly pulled off the impossible; but another short delivery and a three-wicket burst from McClenaghan (four for 68) later, India were dead and buried, falling 25 runs short to finish at 268 all out to hand New Zealand a 1-0 lead in the five-match series.
It was not the smooth start that India were banking on, with Rohit Sharma, his glorious Indian autumn/winter all forgotten, looking like a cat on a hot tin roof, struggling to get any kind of score on the board, while also hogging the strike and thus keeping Shikhar Dhawan unsettled at the crease at the other end.
Twenty-three balls Rohit faced, and not one did he look comfortable playing, eventually succumbing to a hook shot off a ball which got big on him.
Dhawan looked composed at the other end, when he did get strike, with some of those patented cover drives coming out on occasion to raise hopes of a comfortable chase. Virat Kohli was Virat Kohli, calm, easy, intense, and responsible all in one.
The duo put on a decent half-century partnership, and were on their way to building that solid base for the likes of Dhoni and co. to come and smash, but Dhawan became the second Indian batsman to succumb to a short delivery, top-edging one off Corey Anderson.
Ajinkya Rahane came and went all too soon, before Suresh Raina set about building another decent partnership with the unconquerable Kohli.
The alliance was worth 45 from 44 deliveries and was crucial considering India were teetering on 84 for three on 21 overs following Rahane's dismissal. However, just when Raina got himself set and looked secure, he gave his wicket away, and yes, you guessed it, off another mistimed pull shot off a short delivery -- this time Adam Milne picking up the wicket.
Dhoni came in with India needing another 164 runs from just 21.4 overs, and the way the two just went about chasing down the runs it looked like the away team would coast to victory.
But in stepped a left-armer that goes by the name of Mitchell McClenaghan, who had sent Rohit packing early on. McClenaghan, with India looking favourites on 79 from 48 deliveries, used India's great nemesis - the short ball - to good effect yet again, with Dhoni (40, 46b, 2x4, 2x6) looping a catch to the wicketkeeper Luke Ronchi.
With the 95-run partnership from 85 deliveries broken, New Zealand smelt more Indian blood, as Ravindra I-don't-know-how-to-bat-anymore Jadeja edged one a couple of deliveries later.
As long as Kohli (123, 111b, 11x4, 2x6) was at the crease, however, India were still very much in the game, but McClenaghan, in his next over, pulled off the masterstroke, with the India maestro smashing a low full toss straight to the throat of Jesse Ryder, who made up for a missed opportunity when Kohli was four runs short of a hundred.
With India needing a further 56 runs from less than six overs, it was game, set and match for the Kiwis, who wrapped up a big win.
Earlier, with plenty of nicely-comes-onto-the-bat-there deliveries and some big hitters it was always going to be a bit of a slam, bag thank you ma'am kind of innings, and New Zealand, asked to bat first by Dhoni, started off the proceedings quite well.
After losing two wickets early, Ross Taylor and Kane Williamson steadied the home side's innings, before Brendon McCullum, Anderson and Luke Ronchi spelt India's bowling doom yet again in the final overs to guide New Zealand to 292 for seven form their 50 overs.
India needed a couple of early wickets to get their tour going, and Mohammed Shami, who finished with good figures of 9-0-55-4, provided them, first castling the ever-dangerous and reinvigorated Jesse Ryder, before inducing an outside edge off Martin Guptill for R Ashwin to complete a catch at first slip.
Those two wickets left New Zealand on 32 for two from 7.2 overs, and what followed was a patient, calm and risk-free 121-run partnership from 152 balls between Taylor and Williamson (71, 88b, 7x4).
The duo eased those nerves in the dressing room considerably following the two early wickets, and kept India from pressing home the advantage and finishing off the innings quickly.
Only eight boundaries came off the bat from the partnership, with Taylor, in his 55 from 82 balls, just managing a single four - underlining just how controlled the knock and the alliance was.
Just when it looked like the New Zealand pair were getting into their groove and planting that foot firmly on the accelerator, India broke the resistance - Ravindra Jadeja picking up Williamson, who lofted one straight to Ajinkya Rahane at short cover.
Shami sent Taylor packing soon after, with Dhoni becoming the first Indian wicketkeeper to reach 300 dismissals after completing the catch off an outside edge, and with it putting the onus on New Zealand's white-ball smashers McCullum and Anderson to come to the fore. The former managed 30 from 25 balls before Dhoni grabbed a nice catch while standing up to Bhuvneshwar Kumar, with the pendulum swinging Anderson's way, asking the left-hander to wield that willow to good effect yet again.
Anderson, the new holder of the fastest ODI century in cricket, did just that, taking full toll of the Indian bowlers bowling length time and again, with Ronchi (30, 18b, 2x4, 2x6) getting in on the act as well.
It seems like ODI death bowling has regressed of late, with yorkers seemingly becoming an extinct species, and with the new field placements only helping the batsmen even more, there was ever going to be only one result.
Anderson (68 n.o., 40b, 3x4, 4x6) cranked a couple out of the ground, literally, and was seemingly taking the Kiwis to a score over 300, before the India bowlers (read Ishant Sharma and Shami) were visited by the spirit of good death bowling -- who seemed to say, vary your pace and bowl some yorkers for the sake of everything that is wonderful in the game of cricket - which they duly did, pulling things back in the final four overs to keep the score below 300.
However, the target proved to be a little too big for the Indian batsmen, still acclimatising themselves to the New Zealand conditions, with the Kiwis drawing first blood in the series and tour.