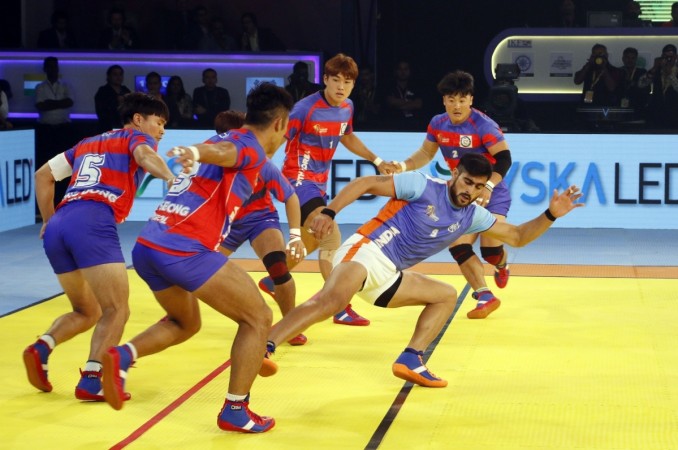 India, Iran and South Korea have already made it to the knockout stages of the Kabaddi World Cup 2016 and it is either Thailand or Japan now who will be joining them in the semifinals. The most awaited clash of the tournament was expected to be between the kabaddi giants India and Iran, but as it looks, the two countries, in all likelihood, could face off in the semifinals.
Out of four games so far, the Anup Kumar led India side have lost only once but have dominated the other three games -- against Bangladesh, Australia and Argentina. Iran, however, have won all of their four matches in the tournament so far with thumping results and are giving a sensational display of kabaddi in the competition.
Going by the recent records of the team, India lose out to Iran. However, with proper preparations and strategies, much can be achieved by the hosts in their probable semifinal encounter.
"Let's face it, the Irani boys are stronger than us, so we will only have to break their defence using skills and tactics," mentioned Indian star raider Rishank Devadiga to Firstpost. "If we play the third raid (do-or-die raid) well, the game would be low-scoring but sway toward our side.
"It's easier said than done, though. The team will be under immense pressure – from the Federation, from fans and from their own selves – to perform amidst the same people who have made them stars. Being knocked out in a home World Cup would be a shame.
"I also expect the team will study the movements and weaknesses of every Iranian player before stepping on to the court, because the opposite camp will do that for sure," added the U Mumba raider in Pro Kabaddi league. "No trophy would be deserved if we do not beat Iran (and then perhaps Korea, again, in a grudge game?) on the way to getting it."
Team comparison (as on October 17)
Total raid points
India - 117
Iran - 96
Total tackle points
India - 64
Iran - 56
Total points
India - 217
Iran - 187