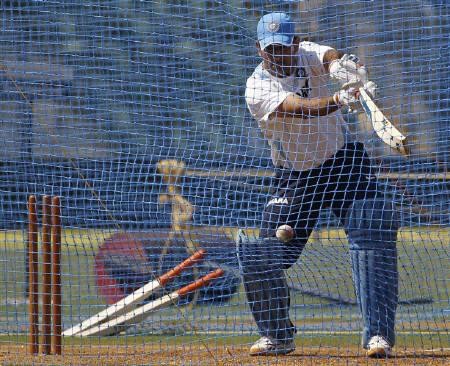 The much-anticipated first day of the Third Test between India and Australiaat Mohali turned out to be a bit of dampener, literally, with incessant rain leading to the opening day's play being called off.
Australia were looking for a way back into the series, and would have liked to have a crack at the Indian batsman had they won the toss, which of course never occurred, with the cloudy skies sure to aid fast bowlers.
However, it was one of those days of sitting in the team hotel or in the dressing room with you feet up wondering if there would be any play or not for both sides, with the crowd left frustrated by a steady, but hardly heavy, rain which just refused to go away.
There was some hope at around 11.00 a.m. of some play being possible, with an inspection scheduled an hour later, but the rain, which had then stopped for a little while, started yet again, immediately throwing away any chances of play on the first day.
Australia, however, did announce their team, with Glen Maxwell surprisingly left out, as Nathan Lyon returned to the XI after being dropped for the second Test in Hyderabad.
Maxwell had a decent debut, taking four for 127, but Australia decided to go for four specialist bowlers, with Moises Henriques providing the fifth option, while Steven Smith is also available to bowl some leg spinners.
"He (Maxwell) did have a good debut," Arthur was quoted as saying by ESPNCricinfo. "We went with our two quicks and Moises, and we went with what we perceive to be our two specialist spinners. Nathan Lyon and Xavier Doherty were both brought here as specialist spinners.
"Maxi was brought here as the all-rounder-type guy. I guess, in a way, he competes with Moises for one position and we've decided we're going with our specialist attack. We need to take 20 wickets to win this Test match so we wanted our specialists out on the park."
Brad Haddin also got a call up into the team, after Matthew Wade struggled with wicketkeeping drills following an ankle injury which he picked up earlier in the week.
"I'm excited by it. It's a big Test match here, if the rain stops," Haddin said in the morning. "From where we are in the series, there's no second chance here. We've got to get a result to draw the series. It's an exciting time to come in and I'm looking forward to the opportunity.
"I have enjoyed my season so far at home but the beauty of Test cricket, and this is where you want to test yourself, is playing in foreign countries. It's good to be back on this stage again and testing yourself out in the middle, which has been on some challenging wickets. I'm looking forward to it."
India are not expected to make too many changes, with Shikhar Dhawan expected to make his debut following the exclusion of Virender Sehwag from the squad.
India lead the four-match series 2-0, and M.S. Dhoni's men will be keen to take an unassailable 3-0 lead with victory in Mohali; that is of course if the weather permits.