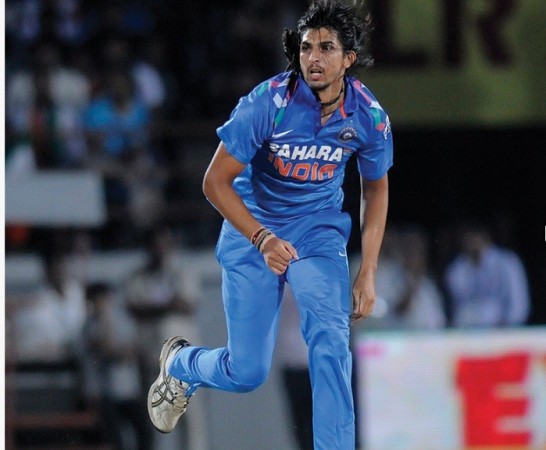 When the selectors announced the India team for the lone T20 and the first three ODIs against Australia, there was always a feeling that this squad of 15 was set in stone for the whole series, irrespective of the performances that might stem out of the first four matches.
Well, that has proved to be right, with the selectors deciding to retain Ishant Sharma for the final four one-dayers. One of India's problems in the past has been that they don't show enough ruthlessness when it comes to dropping players.
That seemed to change, when the selectors overlooked the likes of Virender Sehwag and Gautam Gambhir, with Rohit Sharma and Shikhar Dhawan, in both limited overs and Tests, stepping up admirably.
So, then it begs the question, why did the selectors not set the same standards for the bowlers (read Ishant Sharma).
There were plenty of bowlers that the pacer could have been replaced with, with the likes of Umesh Yadav and Mohit Sharma lying in wait. Mohammed Shami and Jaydev Unadkat haven't even been used, despite their impressive performances for India in recent matches, albeit against Zimbabwe.
Dhoni's prime complaint after the T20 international and the first two one-dayers was the bowling. Ishant Sharma had gone for nearly eight and eight runs an over in his first two ODIs against Australia - he also went for 52 runs in his four overs in the T20 in Rajkot.
Of course, amongst the pacers, only Bhuvneshwar Kumar has been economical, with an average economy rate of a little over 5 runs an over.
R Vinay Kumar has averaged over seven an over, but has taken five wickets. Ishant's record in the first three ODIs is 24-2-189-2, at an economy rate of 7.87.
"The bowlers who are waiting in wings, they can wait a bit more," Dhoni said after that dramatic loss on Saturday with the game turning courtesy a 30-run over gifted by Ishant. "Once somebody goes out of the side, tendency is that they are forgotten, they keep talking about new bowler.
"I always feel that people who are in the side should be given the rope, does not matter if he is a bowler or a batsman. If it is a selection matter, I will discuss it with the selectors and not at a press conference. If you base everything on one or two games, the whole team will have to be changed. One can't drop a player on the basis of one off day."
It just isn't one off day, though, is it? Ishant Sharma has played in 51 Test matches and 68 one-day internationals. He averages well over 30 in both formats, with his strike rate not too much to talk about either.
His overall economy rate is near six, and in this series has been dreadful. We are not talking about a novice here; this is a fast bowler - and that term is loosely used - who made his debut way back in May of 2007.
People constantly complained about giving Rohit Sharma a long rope, well Ishant is no better, if not worse.
Rohit is at least showing some good form off late, showing that he wants to stay in the Indian team; not look forlorn and clueless.
The unacceptable part about that epic 30-run over was that not one ball was on target. It was not like James Faulkner smashed yorkers, or near-yorkers, or rearing short-pitch deliveries for sixes; all of them were long-hops. Either good-length deliveries or sit-up-and-hit-me short-pitch gifts.
Dhoni surely has to give Shami or Unadkat an opportunity in Ranchi. There comes a time when you say: alright man, take a break, recharge your batteries, find your mojo, put in some hard work on your death bowling and come back.
And surely, for Ishant Sharma, that time is now.
Squad: Mahendra Singh Dhoni (capt), Shikhar Dhawan, Rohit Sharma, Virat Kohli, Yuvraj Singh, Suresh Raina, Ravindra Jadeja, R Ashwin, Bhuvneshwar Kumar, Ishant Sharma, Vinay Kumar, Amit Mishra, Ambati Rayudu, Mohammed Shami, Jaydev Unadkat.