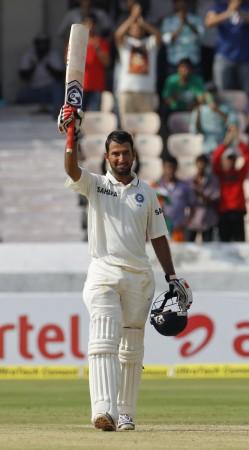 Before the start of the series, very few people would have predicted a 4-0 whitewash of Australia by India, particularly after suffering a disappointing loss to England recently in their own backyard.
However, the third day of the fourth and final Test at the Feroz Shah Kotla saw India make a 4-0 series sweep a reality with a thrilling six-wicket win, led by the usual suspects - the Indian spinners and Cheteshwar Pujara.
Set a target of 155 to chase down on a wearing and tearing Kotla pitch, after the spinners, led by Ravindra Jadeja (five for 58), had bowled Australia out for 164 in their second innings, India knocked down the runs comfortably enough, despite a couple of hiccups, to reclaim the Border-Gavaskar Trophy with aplomb.
Cheteshwar Pujara was the architect, with a brilliant 89-ball 78, making batting look ridiculously easy, when more illustrious batsmen have found demons hindering their progress on this wicket.
Murali Vijay and Pujara started proceedings for India at the top, and there was drama off the very first ball of the innings.
Nathan Lyon, on a hat-trick, after picking up two consecutive wickets to wrap up the Indian first innings, nearly made it three in a row as Vijay danced down the track to a ball that was fired down leg side. Matthew Wade, though, could not collect cleanly much to the bowler's disdain.
Vijay played a couple of nice shots, before throwing his wicket away, foolishly going for a reverse sweep and only managing to see his wickets knocked out by Glenn Maxwell (two for 54).
Virat Kohli and Pujara did not let the wicket bother them as the duo scored runs at will, picking the ones and twos while putting every single bad ball away.
India were cruising to a nine-wicket victory on 123 for one -- the second wicket partnership yielding 104 -- when a trio of wickets brought the butterflies back to the stomachs of the fans.
Kohli, who made 41 from 60 balls, which included four boundaries, and Sachin Tendulkar (1) fell in similar fashion - playing across the line to off spinner Lyon, who had match figures of nine for 165, and getting trapped in front of the wicket.
Ajinkya Rahane soon followed, falling to Maxwell while going for an ill-advised loft towards midwicket, with Lyon completing the catch.
India were 128 for four at that point and needed another tricky 27 runs. Captain Cool MS Dhoni and Pujara, however, calmly notched the required target, with Pujara smashing Maxwell for three consecutive fours off the penultimate over, before Dhoni finished things off with a typical flourish over midwicket.
Earlier, for Australia, Peter Siddle was the thorn in India's side yet again, scoring a belligerent 50, for the second straight innings, to help Australia to the competitive total on the wearing pitch.
The Aussies only needed eight minutes to polish off the last two Indian wickets, with the hosts taking a lead of 10 runs as Lyon ended the first innings with brilliant figures of seven for 94.
Needing to post a competitive total, the Aussie top order struggled yet again to put up much resistance.
Maxwell was asked to open the batting with David Warner to try and take the attack to the Indian spinners, who expectedly did the bulk of the bowling right from the beginning.
The Australian experiment, however, failed to yield any real result as Maxwell (8) played around a gentle off spinner from Ravindra Jadeja, the man of the match, to see his stumps disturbed.
Warner, who had got under the skin of the Indian batsmen on a few occasions, was next to go for just eight, trapped plumb in front off Jadeja's bowling, with the Indian fielders, led by Jadeja himself, producing a grand send off for the Australian opener.
Phil Hughes (6) was the third straight Australian batsman to walk back to the pavilion before reaching double digits, with the left-hander failing to read an Ashwin off-spinner and falling prey to an lbw decision.
Skipper Shane Watson, who had marshalled his team so well when India batted, gave his wicket away adding a mere five runs, going for a wild hoick to leg side, and only managing to play on to his stumps as the ball from Pragyan Ojha kept low.
Australia were tottering at 51 for four, when two runs later, as Cowan, who was looking good on 24, was given leg before wicket to Jadeja.
Steven Smith and Matthew Wade then put on a crucial 41-run partnership, which took Australia closer to the 100-run mark. Smith, in particular, played a few wonderful shots, using his feet to good effect and disrupting the Indian spinners' rhythm.
Smith, though, after taking Australia to lunch on 89 for five, lost his wicket in the second over of the second session, making 18. The right-hander offered to leave the ball from Jadeja, which went on with the arm and crashed into off stump.
Jadeja completed his five-for in the next delivery, castling Mitchell Johnson for a golden duck with a ball that went through bat and pad as Australia stumbled on 94 for seven, a lead of just 84.
Then came the now familiar Aussie rearguard action, as Siddle, first with Wade, and then with Pattinson bulged the lead towards a competitive one.
The Australian fast bowler was positive with his intent on a difficult pitch, and that made all the difference as he raced to a 45-ball half century.
With Wade and Pattinson gone, and only last man Lyon remaining, Siddle attempted one expansive shot too many, as man of the series Ashwin outfoxed him finally with a wide delivery, which allowed Dhoni to whip off the bails with Siddle stranded out of the crease and Australia out of ideas.