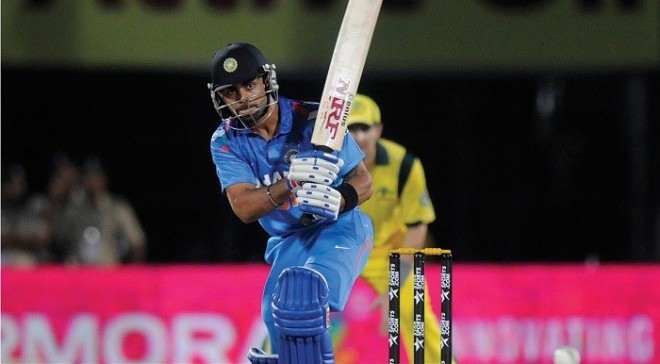 Skipper M.S. Dhoni believes India's stunning victory over Australia, in which the hosts recorded the second highest ever run chase on ODI history, was one of the best performances of all-time.
Rohit Sharma, Virat Kohli and Shikhar Dhawan put on a bating masterclass, to chase down a massive 360-run target in just 43.3 overs, and losing only one wicket, leaving the Australian side reeling in disbelief.
"I think this has got to be one of the best you can see," Dhoni said. "Irrespective of the rule change, field restrictions and the pitch, I said 360 was still going to be a tall chase.
"I knew that we can chase down the target. Once we had scored over 400 but Sri Lanka nearly chased it down (at Rajkot in 2009). So I told the players not to look at the target and just go and play. Shikhar batted very well, Kohli was amazing, Rohit got a big knock."
Dhoni was impressed by the manner in which the Indian top three went about chasing down the target, very rarely looking troubled with the run rate, all the way, maintained well within their control.
"It was an ideal pitch, fast outfield, but you need to keep the shape as a batsman, that's what they did well," the skipper added. "Most of our batsmen don't have the experience of a Yuvraj Singh who has played over 250 matches.
"What you have to do is to be aggressive, but what is important is that you don't have to slog, you have to maintain good shape."
Dhoni, though, acknowledged his side would have to improve their bowling after conceding over 300 runs for the second straight match.
"Our batting is looking good, but it's unfair to assume the batsmen are going to chase a 300 plus target every time," he said.
"We need to improve in bowling. The reason is that if you attempt a yorker and it becomes a low full toss, it's fine, but if it becomes a waist-high full toss, then the margin is too much. It's one area we are looking to improve."
Australia skipper George Bailey, who made a brilliant unbeaten 92 in the first innings to help his side to 359 for five, admitted to being a bit dazed after seeing his bowlers thrashed to all corners of the ground.
"I don't know, you tell me (what just happened). I am not sure what to feel at the moment," Bailey said. "Obviously, it was some awesome batting. They (India) did it pretty comfortably in the end. Everything we tried the ball seemed to go further and harder."