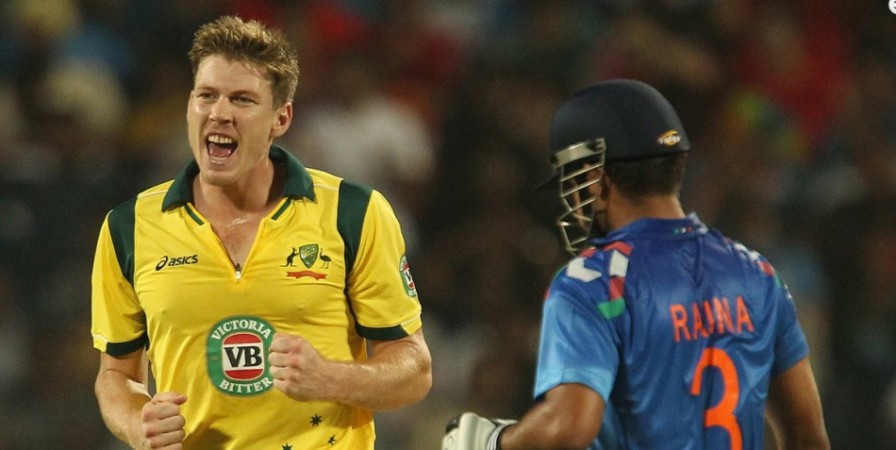 After a nerve-wracking loss in the T20 international on Thursday, Australia cranked it up a level or two in the first one-day international in Pune, a level that India failed to remotely reach on a disappointing night for the hosts.
Australia took a 1-0 lead in the seven-match ODI series, after an emphatic 72-run win over India, courtesy an almost flawless team performance.
Asked to bat first by M.S. Dhoni, Australia, riding on half-centuries from Aaron Finch (72) and skipper George Bailey (85), stormed to 304 for eight in their 50 overs.
India failed to find any kind of real form with the bat, and never really looked like reaching anywhere close to the total, eventually finishing on 232 all out in 49.4 overs to hand Australia the early bragging rights.
The onus was, as always on the openers to give India a bright start, but Shikhar Dhawan, the man in near-unstoppable form over the last year or so, could not weave his magic in Pune, with the excellent James Faulkner inducing an outside edge off a delivery that just nipped a little away from the left-hander.
Faulkner was not done there, though; the left-arm pacer then, during the celebrations, proceeded to take out his teammate and wicketkeeper Brad Haddin as well, poking him in the eye, and with it sending him back to the pavilion, with Phil Hughes having to substitute as keeper for over 20 overs.
That really was the only worrying aspect in Australia's night, though - Haddin would, thankfully, return to the field and take his place behind the wickets - as India just failed to hit any sort of heights necessary for chasing such a big total.
Virat Kohli and Rohit Sharma, and then Kohli and Suresh Raina, threatened for a bit with a couple of decent partnerships of 40 and 71 respectively, but India's required run rate only kept going one way -- pointed straight up.
Sharma (42, 47b, 6x4) again failed to capitalise on a good start, edging one off a fired-up and effective Shane Watson (two for 31).
Raina scored a brisk 39 from 45 balls, but the dominance that you normally see from the left-hander in one-dayers just wasn't there. Kohli, despite top-scoring with 61 (85b, 6x4) was not at his fluent best either, that assurance of being able to chase down any total, far from visible.
Yuvraj, fresh from his match-winning innings in the T20 international, and a good bowling spell where he picked up two wickets, started his innings off with a top-edged six, before a fast delivery from Mitchell Johnson, bowling consistently at over 150 kms an hour, led to an outside edge to the keeper.
Kohli and Dhoni now had the job of hauling down a target which was increasingly getting away from them, and a chase of 158 from 21 overs, when Yuvraj got out, just proved to be too much as the Aussies tightened the noose so expertly that even the best finisher in the game - Dhoni - could do nothing.
Earlier, India seemed to be in a hurry to finish their bowling innings, but Australia motored along as well, after a brief lull in the opening overs.
Sound innings' from the openers Finch and Hughes, coupled with a brisk 85 from skipper George Bailey helped Australia to a big score on a pitch, that initially did not look like it was aiding the batsmen too much - not that it was a bowler's paradise either, far from it.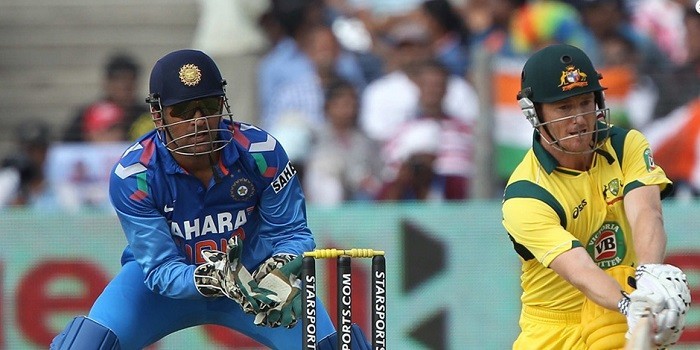 India, who finished their 50 overs with the ball with nearly half an hour to spare, kept the run rate down considerably in the first six overs, as Australia managed just 14 runs. However, both Finch and Hughes played intelligently, took their time to assess the pitch before using their natural aggressiveness to take advantage.
The plan worked out brilliantly as from over seven onwards, the Aussie openers started picking off the Indian bowlers easily, motoring the innings along quite well.
Soon, from a run rate of below 3, it was up near six, with the opening stand going well past the 100-mark, with the early pitch worries seemingly a thing of the past.
It was obvious, this pitch, a little on the slower side, was for the batsman who could spend time a little bit in the middle, before launching into overdrive.
Finch and Hughes (47, 53b, 5x4) did that really well, putting on 110 in just 18.2 overs, with Ravindra Jadeja picking up the crucial wicket of Hughes - caught at leg slip.
Yuvraj Singh (two for 34) then came to the fore with the ball, as M.S. Dhoni started to rely on his spinners. Yuvraj, the man of the match of the lone T20 international on Thursday, first dismissed Shane Watson, off the left-armer's first ball, for just two, before ending the stay of Finch (72, 79b, 8x4, 3x6), who was putting on a good partnership with Bailey.
The comeback man, who seems to be re-born, from a cricketing point of view, also accounted for Adam Voges' wicket with a brilliant run out from point.
The onus was now on Bailey to carry on and take Australia past the 300-mark, and the skipper did that pretty well with a real innings of note - scoring 85 in just 82 balls -- aided by a couple of cameos from Glenn Maxwell (31 in 23) and James Faulkner (27 in 22).
Australia kept losing wickets at regular intervals throughout the innings, but the Bailey knock proved to be crucial, with the expected accelerator pressed down expertly in the final five overs - 53 runs coming in the last 30 balls -- as the Aussies cantered to 304 for eight.