In a match that nobody could have possibly even dreamt of, India pulled off quite a stunning 58-run victory in the seventh ODI in Bangalore to clinch the series against Australia 3-2 - a series that will go down in the annals of one-day international cricket as one of the greatest bi-lateral contests ever.
It all began with Rohit Sharma, who had to get a big hundred in this match, after the hands-in-the-mouths, gasps-everywhere-in-the-air run out of Virat Kohli.
That was the instance, when a monumental mix-up between the duo, leaving Kohli walking back to the pavilion seething and without troubling the scorers, that Sharma realised even a hundred would not do, let's make it a double for good measure.
With the responsibility thrust upon his shoulders, following the quick dismissals of the other two in-form Indian batsmen - Shikhar Dhawan and Kohli - Sharma brought out that determined frown, put his head down and played an innings of real authority, maturity, ruthlessness, power and delight.
Riding on a stunning, quite unbelievable, double century from Sharma (209 in 148 balls), India roared themselves to 383 for six in their 50 overs, setting Australia a near-impossible target to win in the deciding seventh one-day international in Bangalore.
What did a shell-shocked Australia do in reply to the daunting total in a winner-take-all game? Well, they struggled for large parts - at one point they were 211 for eight -- while also teeing off for a mammoth amount of sixes - the world record for sixes in an ODI was broken in this match -- of their own, with James Faulkner (116) smashing a wonderful century, his first in ODI cricket.
The Aussies eventually finished on 326 all out in 45.1 overs with lightning knocks from Glenn Maxwell (60) and Shane Watson (49), who went slam-bang on pretty much one leg, also studding their innings as the visitors fell just a little short.
Australia did not get the start they were craving for, with Aaron Finch trapped lbw by Mohammed Shami. Brad Haddin was sent in at No.3 for the injured Watson, who had to leave the field in the first innings with a hamstring problem.
Phil Hughes and Haddin just could not get going, and it came as no surprise when the latter was dismissed by R Ashwin, with skipper George Bailey, the man in stunning form, then committing hara-kiri - running himself out.
Haddin (40 in 49) also fell soon after, bowled by Ashwin, who finally looked like he was back to his best, which left Maxwell to just throw his bat at every ball. He did that pretty nicely too for 22 deliveries, off which 60 runs (3x4, 7x6) were scored as Australia saw a glimmer, the slightest of glimmers, of hopes.
However, another big shot attempt led to the Aussie all-rounder's demise, before Watson, on just one good leg took over the assault - R Vinay Kumar, the hometown boy was the one that bore the most brunt of both Watson and Maxwell, with the medium pacer finishing with figures of 9-102-0-1.
Watson smashed 49 from 22 deliveries (2x4, 6x6), before, following, his wicket Faulkner decided to take charge. The all-rounder just bashed the Indian bowlers into submission, putting on a brilliant partnership for the ninth wicket with Clint McKay to make the hosts nervous, really nervous.
The duo took it all the way down to 61 required off the final six overs, before a brilliant over from Ravindra Jadeja, bullied to every corner of the ground until then, came up trumps, picking up McKay (18, 37b, 3x4), and with it ending a fabulous partnership of 115 from 14.5 overs.
Shami then picked up Faulkner (116, 72b, 11x4, 6x6) as the Aussie batsman looked for another maximum as India won a truly unbelievable series.
Earlier, Dhawan (60) and MS Dhoni (62) also contributed with nice innings of their own, but the first 50 overs in Bangalore was all about Sharma.
The openers - Dhawan and Sharma - did what they do best, set India a good platform to build on, allying for their sixth hundred partnership in just their 19th match together beginning the innings at the top.
It was a bit of a déjà vu actually in the first 19 overs or so - very similar to the previous ODI on Nagpur - with Dhawan looking quite awesome at one end, while Sharma dug in and looked to fight his way out of a relatively slow start.
Dhawan is in such form that he does not need to get his eye in, those two sharp ones are planted on smashing the bowlers, irrespective of their nationality or their prowess, all over the park - although, he does seem to have a bit more of a liking for the Australians.
Sharma, like in the Nagpur ODI, did well to just hang around, and not get rattled at the pace in which Dhawan was going - well over a run-a-ball, as India brought their hundred up in just the 16th over, with Dhawan getting his half-century an over earlier.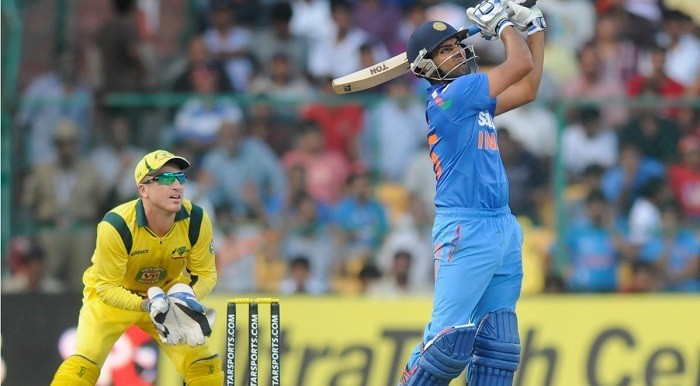 India were primed for a full-frontal assault on the Australian bowlers, when rain decided to have its say, bringing the play to a halt for a little under half-an-hour after the 17th over with India on 107 for no loss.
That seemed to be a heaven-sent gift for Australia, who were without Shane Watson (hamstring) for much of the innings, as the Indian batsmen, losing their momentum, took time to get settled in again, with Xavier Doherty sneaking one through to Dhawan (60, 57b, 9x4) and trapping him right in front.
Kohli, who came in to a rousing ovation from his RCB home crowd, was run out soon after -- the only way Australia really could have dismissed the right-handed tyro - as India looked at some good contribution from either Suresh Raina or Yuvraj Singh - the two batsmen who have disappointed in this series.
Raina (28 in 30) raised hopes of a nice little innings, putting on 72 in just 9.4 over with Sharma, but another Doherty (two for 48) delivery that was pushed through led to Raina's demise.
Yuvraj Singh (12 in 14) was welcomed with a barrage of short deliveries, before one pitched up by James Faulkner found the outside edge with wicketkeeper Brad Haddin completing a quite outstanding catch.
As always it was now down to Dhoni (62, 38b, 7x4, 2x6) to see India through to the end, as the skipper in the company of Sharma hurt Australia, and how, in the final 15 overs.
Sharma, who became only the third batsman in world cricket to hit a double ton - the other two being Sachin Tendulkar and Virender Sehwag -- was dealing in sixes - 16 of them, a world record, beating Watson's 15 -- when it came to the boundaries, as one white ball after the other kept flying into the noisy crowd. The Indian opener, who also had 12 fours, reached his 100 - his second in the series and fourth overall - in the 38th over, before completely laying into the Aussie bowlers.
It was lift-off into orbit from there on as the duo carted the bowlers around in the final 10 overs, smashing 151 runs, with Sharma's blitzkrieg taking him to that magical double hundred in the final over of the innings -- the second hundred coming in just 42 deliveries -- before his dismissal.
Dhoni, who brought out the helicopter shot and smashed a six out of the ground, finished things off with a few boundaries of his own in the last three deliveries as India finished on a quite ridiculous 383.