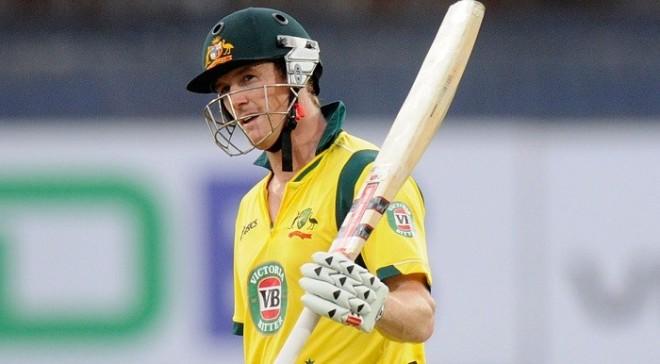 As England flew out to Australia for the Ashes series, there was one batsman making plenty of waves on Indian shores with his prowess with the bat.
George Bailey, the skipper for Australia in the one-day series against India, has been in sparkling form for the visitors, leading to the inevitable whispers gathering pace of a possible call-up to the Australian Ashes squad for the series which starts next month.
Bailey, who has played 33 ODIs and 19 T20 internationals, but no Tests, however, called the talk "ridiculous," with the skipper content to just concentrate on the ongoing seven-match one-day series against India.
"No [eyes on the Ashes], both eyes on the ball," Bailey told reporters after the fourth ODI in Ranchi was abandoned due to rain. "That's very important. I think there's probably eight guys who have got a chance of playing in that Ashes team.
"It's so far away. It's just ridiculous to look at it. There's guys who will be at home playing Shield cricket, we've got Australia A games when we get back. It's a completely different format. Completely different surface. I don't think there's anyone out playing in these games thinking about that series."
Bailey has been in impeccable form in this series with scores of 85, 92 and43 before making 98 to spur Australia to 295 for eight in Ranchi. The skipper, though, was not too happy with his performance with the bat on Wednesday, feeling Glenn Maxwell, who made 92, deserved all the plaudits.
"I was dropped twice. I was a bit frustrated out there and found it quite difficult," Bailey said. "I think Maxy's innings was absolutely superb. We've seen his hitting before and we've seen how he can take games away late in an innings.
"But to come in with the team under pressure, with the ball still doing a little bit, I thought he summed it up. He still hit the boundaries and sixes but he hit them off the balls that he needed to hit. He didn't take any risks.
"They were smart shots in his areas. He took the pressure off me. When you've got someone scoring at the pace he was, it put the pressure right back on India. It was a great knock."
Australia were on a precarious 71 for four, with Mohammed Shami knocking over the top order, when Bailey and Maxwell came into the crease. The duo put on an impressive 153 runs in just 22.3 overs to pull Australia out of troubled waters.
"I thought Maxwell found it conducive to strokeplay," Bailey said. "It was still a good batting wicket. Probably what it did that the other wickets haven't done is it swung and seamed and spat a little bit, particularly at the start. From the moment Maxwell strode to the crease he made it look like a different wicket."
Bailey was confident of Australia defending the total, as the match was called off with India on 27 for no loss in 4.1 overs.
"We were confident but I'm sure India probably were as well," he added. "Given the way the series has gone... strong batting line-up, I'm sure they would've been. We just felt there was enough movement in the wicket, particularly early on.
"Looking at our scorecard it would suggest that new batters found it difficult at the wicket. It was hard to get started. We were hoping if we could get a couple of wickets you could make that quite challenging.
"And certainly the pace that Mitch (Johnson) was getting it through early on, it looked like that was going to be quite difficult to play at different stages at the game.
"Certainly 50 overs we were confident and happy to back. I think the way Duckworth-Lewis is set up, I think if it had become a 20-over game it probably would've suited India quite a bit.
India would have been set a target of 150 had the match been reduced to the minimum-required 20 overs, but Mother Nature refused to relent and the match had to be abandoned.