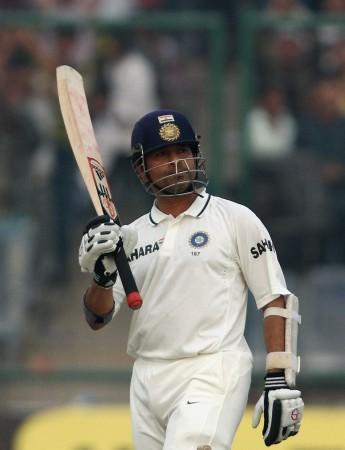 In another dominating performance, India outsmarted Australia for the third straight match to clinch the four-match series 3-0 in Mohali, with a further Test match still to go.
India made heavy work of the second innings target of 133, getting to the mark in 33.3 overs as MS Dhoni's men captured a six-wicket victory.
MS Dhoni and Ravindra Jadeja saw the hosts through, after India lost their openers Murali Vijay and Cheteshwar Pujara, who was filling in for the injured Shikhar Dhawan, with Virat Kohli and Sachin Tendulkar also being dismissed.
Courtesy a dogged last-wicket partnership from Mitchell Starc and Xavier Doherty Australia posted 223 all out in their second innings, giving India the task of chasing 133.
Vijay and Pujara started positively, with both players playing a few expansive drives.
However, Vijay was dismissed for 26 going for one shot too many, stumped off the bowling off Doherty, while attempting an inside-out drive over covers.
Pujara and Kohli kept the score ticking along, before the Saurashtra man was trapped in front, off the bowling of Nathan Lyon.
India needed a further 63 runs for a victory when Tendulkar came into bat, and the Indian legend along with Kohli seemed to be taking the side to a convincing victory, before the collywobbles started, as Australia refused to go out without a fight.
Kohli (34 in 61) gave his wicket away, losing his concentration, and getting caught at short midwicket by Phil Hughes off the bowling of Siddle.
Dhoni joined Tendulkar at the crease with India at one point needing 25 runs from six overs. Tendulkar (21 in 23) smashed a four straight down the ground to relieve the pressure a little bit, before unnecessarily getting run out, courtesy some brilliant fielding by David Warner.
Ravindra Jadeja though settled the nerves, smashing two fours in the same over off Siddle, before Dhoni brought out his customary finishing prowess, with three boundaries of his own to give India a fine win.
Earlier, it did not take India too long to pick up the first wicket of the day - seven overs to be precise - with nightwatchman Nathan Lyon having to walk back to pavilion.
Pragyan Ojha, who saw Lyon dropped at first slip by Virat Kohli in his previous over, induced the outside edge yet again with a nice flighted off-spinner, with MS Dhoni gleefully accepting the catch.
Michael Clarke, with his back problems put to one side, came into bat and started to build a good partnership alongside Phil Hughes.
The duo frustrated India for 18 overs, before that man Ravindra Jadeja again dismissed his favourite batsman of all for 18 (49 balls, 3x4).
The left-armer darted the ball towards Clarke's pads, with the Aussie captain, looking to turn it around for a single, only managing a slight inside edge onto his pad, allowing Cheteshwar Pujara to complete simple catch at short leg.
This was the fifth time in six innings that Jadeja (three for 35) has dismissed Clarke in the series, and the Indian all-rounder celebrated the wicket by holding his palm out with the five fingers in full view.
Clarke's wicket also turned out to be the turning point as the rest of the Aussie batsmen started to crumble quicker than a cookie.
Hughes (69, 11x4, 1x6), who was so impressive on the fourth day, soon joined his captain in the dressing room, given lbw to R Ashwin (two for 72). It was a poor decision from umpire Aleem Dar, though, with the replays clearly showing the ball was going down leg side.
Moises Henriques only lasted 10 deliveries, with Jadeja taking a brilliant catch off his own bowling as Australia teetered on 126 for seven, a lead of just 35 runs.
Tail-ender Peter Siddle came in and hit the Indian spinners for a couple of boundaries before succumbing to a brilliant off-spinner from Ohja (two for 46). The Aussie batsman completely played down the wrong line, with the ball pitching on middle and smashing into off stump.
Wicketkeeper Brad Haddin (30) attempted a rearguard action with the help of Mitchell Starc, who made 99 in the first innings, but his 72-ball stay ended via a patented Ashwin carrom ball, getting caught right in front of the wicket.
At 179 for nine, with Australia leading by 88 runs, India needed just one more wicket before looking to smash the needed runs, but the stubborn Starc and Xavier Doherty had other ideas.
The last-wicket pair dug in, refusing to give their wicket away cheaply, and it took India a further 18.1 overs, which yielded 44 runs, before they could end the Australian second innings.
Jadeja, who else, enticed an inside edge onto the pads from Starc (35, 100 balls, 2x4), with Ashwin taking a smart one-handed catch at backward short leg as the hosts were set a target of 133, which they duly reached, making the fourth Test in Delhi starting on Friday academic.