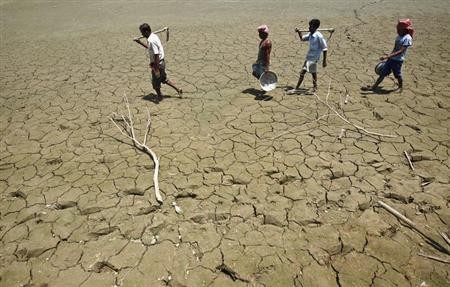 India could be staring at its first drought in five years, if the weak rainfalls refuse to pick up pace in the second month of monsoon.
Weak monsoons have already been bearing down on the Modi government, since it is seen as the main reason behind the high food inflation. The rainfall activity was deficient and scanty over the country as a whole, the Indian Meteorological Department said in its latest weekly monsoon update.
Highlighting the scenario from 26 June to 2 July, the IMD said that rainfall was 53 percent lower than the average overall, while it was even more drastically low in Central India, standing at 74 percent below the seasonal average.
Even the southern part of the country has been bearing the brunt of the weak monsoons, getting rains 62 percent below average.
In June, the rains stood at 43 percent below the seasonal average, according to the weather report. Weathermen hope that the situation may change with more rainfall in the next week. The rains had spread to the soybean cultivation areas in central parts of India and cane areas in the north last week, Reuters reported.
India had last seen drought in 2009, which had forced it to import large quanities of sugarcane form Brazil. With the monsoons failing farmers in the country, experts hint at the likelihood of another drought this year.
"These are early stages of a pending drought, although the magnitude will be known later. There will be a drought, if rains don't revive within a week," DR Sikka, chairperson of the government's 'Monsoon Mission' told Hindustan Times.
Food inflation in the country is already threatening to touch the double-digit 10 percent, having already taken the wholesale price index (WPI) inflation to 6.01 percent in May. A poor performance by the agricultural sector will eventually affect the overall growth, since it contributes 14 percent to the Gross Domestic product (GDP).
Prospects of rains in the next week has raised hopes. "The water-stressed western region is expected to receive good rainfall next week as conditions have become favourable for a revival," M Rajeevan, a senior meteorological scientist told Reuters.
Finance Minister Arun jaitley had also sought to placate cynics, saying "Even if due to inadequate rainfall, there is a marginal decline in agricultural production, stocks in the central pool are adequate to meet any exigency," during his Budget Speech. His statement came in the light of a forecast by a private forecasting agency that warned of a 60 percent chance of India facing a drought this year.