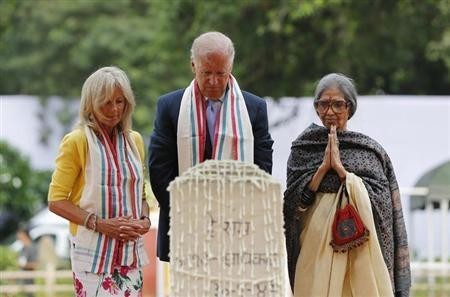 United States Vice President Joe Biden has urged India to create an investment-friendly environment and remove trade obstacles faced by American companies, be it restriction in foreign direct investment (FDI) or local tax treatment.
Joe Biden, who is on a four-day visit to India and is the first US vice president to visit the country in three decades, spoke at the Bombay Stock Exchange, Mumbai on Wednesday.
"Expanding trade between India and the United States can and should be a central part of this story," Biden told the gathering at the Bombay Stock Exchange.
"But that requires us to be candid with each other about the obstacles that exist when it comes to a business environment: protection of intellectual property; requirements that companies buy local content; limits on foreign direct investment; inconsistent tax treatment; barriers to market access. These are tough problems."
He added that both nations have to negotiate and find a solution in order to "meet the potential of this relationship."
"In the last 13 years, we've increased fivefold our bilateral trade, reaching nearly $100 billion. There's not a one of you sitting out there that knows there is any logical impediment as to why that could not be fivefold that number," he said, adding, "There's no reason, if our countries make the right choices, that we can't grow together and more rapidly," he said.
Highlighting the limitations faced by the talented lot in the country, Biden stressed on the need of taking up bold steps and opening up the horizons for professionals.
"A young Indian woman graduating from IIT Bombay who wants to start the next Tata Motors should be able to buy the best technology and parts, wherever in the world they come from - as her competitors around the world are able to do," he said.
"In the United States, we welcome Indian businesses investing in the United States. We've already benefit from the investment of human capital. Indians receive more skilled-worker visas to the United States than any other country in the world. And the legislation our Congress is considering increases the number of temporary visas and Green Cards availability for highly skilled Indians to come work in the United States. "
Biden went on to say that American President Barack Obama had called his country's relationship with India as "a defining partnership for the century ahead," and he stood in the Indian Parliament and declared to the world, that "we look forward to a reformed United Nations Security Council that includes India as a permanent member."
"That's why yesterday, on behalf of the President Obama, I invited Prime Minister Singh to make a visit to Washington at the end of September," he added.
The American Vice President on Monday visited a memorial for Mahatma Gandhi in Delhi before attending a meeting with Prime Minister Manmohan Singh, President Pranab Mukherjee, Vice President Mohammad Hamid Ansari and Sushma Swaraj, senior leader of the opposition Bharatiya Janata Party (BJP), the following day. He spoke at the Bombay Stock Exchange on Wednesday before addressing India Inc at the Taj Mahal Hotel. He is scheduled to leave for Singapore on Thursday night.