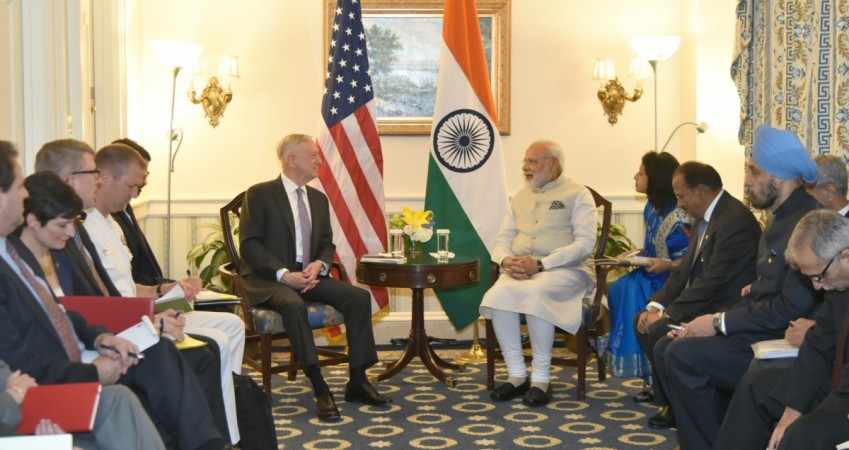 Relations between India and the US on various fronts -- from defence to business -- are expected to take a turn for the better when US Secretary of State Jim Mattis begins his three-day visit to India on Tuesday, September 26.
Mattis is expected to come bearing the news of several key defence deals for India, and go back with a better understanding of the situation in South Asia when it comes to terrorism.
He is expected to meet Prime Minister Narendra Modi as well as newly-appointed Defence Minister Nirmala Sitharaman during his visit, and will possibly finalise or ink some defence purchases that India is looking forward to in order to modernise its armed forces.
All this could be bad news for Pakistan, which has made several failed attempts to paint India in bad light in front of the international community, possibly to brush under the carpet its own failure to deal with terrorism on its own soil.
What's on the agenda?
According to an official statement from the Pentagon, Mattis will look to "underscore the enduring US commitment to strategic partner India." That is something US President Donald Trump had underscored when Modi had visited the country in June this year.
The Pentagon statement, while keeping out the details, said Mattis would, during his visit, "emphasise that the United States views India as a valued and influential partner, with broad mutual interests extending well beyond South Asia."
It added: "The secretary will also express US appreciation for India's important contributions toward Afghanistan's democracy, stability, prosperity, and security."
Billion-dollar defence deals?
What was left unsaid in the Pentagon release was the possible inking of deals between the two countries. Sources have told NDTV that a deal on unarmed Sea Guardian drones, which are used mostly for monitoring purposes, "is top of Secretary Mattis' agenda."
They added: "Maritime security is in common interest due to Chinese aggression with submarines in the Indian ocean, so this platform is a military and diplomatic message to all." The deal could be worth $2 billion.
An AFP report also said that Mattis will look to get India to sign the dotted line to purchase F-16 Block 70 aircraft made by Lockheed Martin in a $15-billion deal. Lockheed Martin has offered India the latest version of the jet.
Bad news for China and Pakistan?
India's push for upgrading its defence is in light of the twin threats it faces from Pakistan and China. While the threat from Pakistan is along the border the two countries share, China's threat is also maritime in nature.
It is here that the unarmed drones will come in handy: They should help India monitor its surrounding water bodies for any and all Chinese threats.
As for the Lockheed Martin jets, the company has also offered to build the aircraft locally in conjunction with Modi's Make In India initiative. This should lead to a larger defence industry in India, which could be a cause for concern for both Pakistan and China.
Mattis' visit alone should have Pakistan concerned, because he will no doubt be apprised of how the neighbouring country tries to foment trouble in India. Increased Indo-US defence cooperation should put a stop to such trouble.