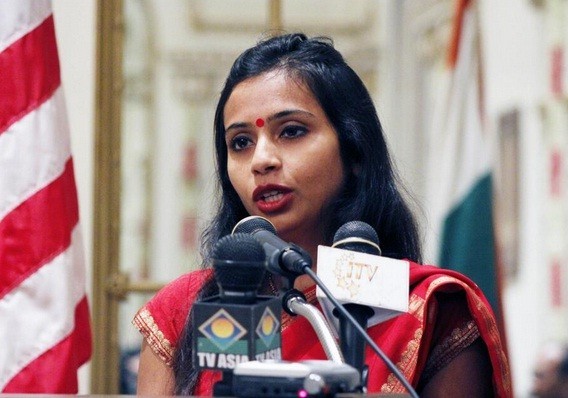 Non-diplomats will no longer be able to use the facilities in a club at its Delhi embassy, an event seen as largely aimed at countering US over the escalating issue of an arrested Indian diplomat in US, Devyani Khobragade.
Hundreds of expatriate Americans, irrespective of whether they were diplomats or not, use the American Community Support Association club located within the embassy premises. The club which has a restaurant, a beauty parlor, and recreational facilities like bar and swimming pool will now not be open for non-diplomats, reports suggest.
The US embassy in Delhi, has additionally ordered to stop "commercial activities on its premises" and India has reportedly declared that embassy cars could also be penalized for traffic offences.
India is miffed with the US due to the 12 December arrest of its deputy consul in New York. Khobragade who was allegedly handcuffed, strip-searched and DNA swabbed is accused of underpaying her nanny and misrepresenting facts on a visa application.
The action from the Indian government comes after a series of other retaliatory measures against the United States. The latest move seems to be a step to put pressure on Washington, ahead of Khobragade's court appearance, scheduled for 13 January.
"Basically the thing is that the provision of such facilities to non-diplomats and not paying taxes is clearly not in accordance with the Vienna convention," a government source with knowledge of the dispute told Reuters.
"You can't have these facilities inside and not pay taxes and allow non-diplomats."
India has already curtailed many privileges enjoyed by US diplomats and has beefed up steps to mount pressure on the US to stop the charges against Khobragade.
US diplomats in consulates across the country were asked to return ID cards that gave them special privileges. India also stripped off airport passes and import clearances on American diplomats and declared that they can be subjected to airport frisking. Most consular staffs have now limited levels of immunity. Concrete barriers safeguarding the Embassy area were also removed last month.
India has sought an apology from the US over the 'humiliating' treatment and to withdraw the charges against the 39-year-old diplomat, who was denied any diplomatic immunity while the US did not even charge 49 Russian diplomats who had reportedly misused 'Medicaid' facilities meant only for poor and under privileged in the US.
Exactly a week before Khobragade was arrested, 49 Russian diplomats of similar stature were reportedly apprehended for a high-profile 'Medicaid fraud', in which the highly placed diplomats and their wives used $1.5 million medical aid from the US government that they were not entitled for.
While Khobragade was arrested and meted with 'humiliating' treatment, the Russian diplomats and their wives, who were accused of fraudulently applying for Medicaid benefits over the past nine years, were simply allowed to leave US.