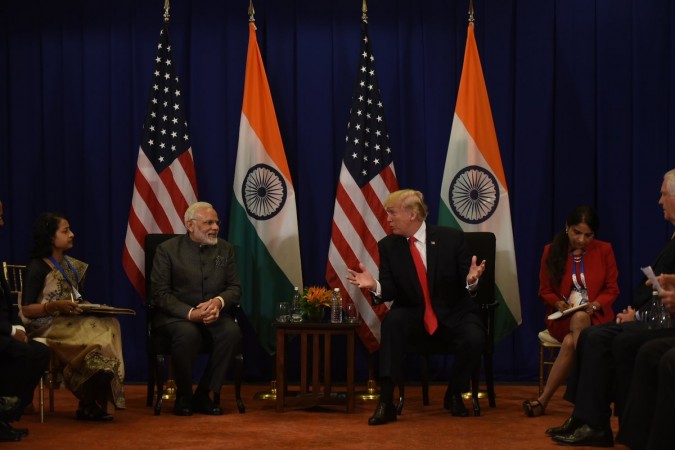 Prime Minister Narendra Modi on Monday told United States President Donald Trump that the relationship between India and the US goes beyond mutual interest. Modi made these statements while attending a bilateral talk with Trump on the sidelines of the ASEAN summit in Manila.
India will continue to meet expectations
Modi also said that the relations would not only be good for Asia but also benefit humanity.
"The relations between India and the US are growing, and I also feel that the relationship between India and the US is not only of mutual interest. It goes beyond that. We are working together for the interest, for the future of Asia and for the humanity as a whole in the world," said Modi.
While Trump went on to describe Modi as a "friend", Modi, in turn, commended the US President for praising India whenever he got an opportunity to speak about the country during his Asia tour.
"In the few days wherever president Trump has travelled and whenever the opportunity arose to talk about India, he has expressed very high opinion about India," Modi stated while adding that India will continue to give its best.
"I would like to assure you whatever the expectations are of the world, of the US from India, India has always made efforts to fulfil those expectations and we will continue to do so in the future too," he added.
Trump continues to heap praises on Modi
Trump, who had earlier commended India and Modi for the country's "astounding growth" at the Asia-Pacific Economic Cooperation summit in Vietnam on Friday, once again praised Modi on Monday.
"PM Narendra Modi is here we had met at the White House before. He has become a friend of ours. He's doing a great job. A lot of things were solved and we will continue to work together," Trump said.
He added that the Indian PM was doing a "fantastic job by bringing lots of factions in India together that is what I hear and is a good news and lot of good reports are coming out of India."