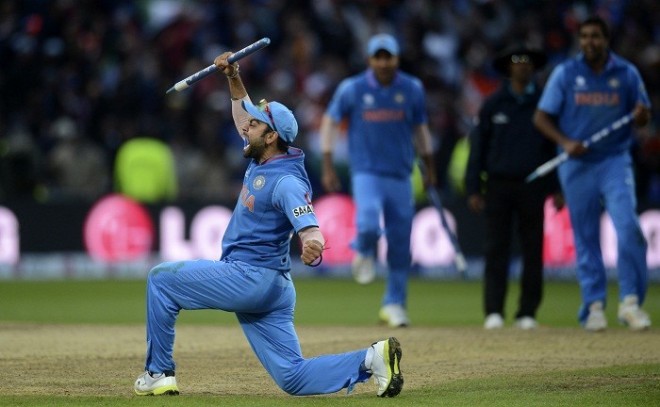 India have replaced Sri Lanka at the top of the ICC T20 rankings table after their impressive run to the semifinals World T20 in Bangladesh, winning all four matches in the group phase convincingly.
India earned seven points to reach 130, same as Sri Lanka. But the ICC calculates beyond the decimal point, which put India ahead on the list. Pakistan are 10 points behind at third but will have no chance to catch up soon, given that India and Sri Lanka can gain more points in the semis and a possible final.
It's good news for the West Indies as well. Though lagging behind in the team rankings at number five, they have two of their frontline spinners in the top two of the T20 bowlers rankings. Leg spinner Samuel Badree has replaced his Trinidad and Tobago teammate Sunil Narine as the number one bowler, after picking up 10 wickets in four matches in this edition of the World T20.
Starting the tournament at a point behind Narine, Badree's economy rate of 5.62 and average of nine have helped him gain an incredible 109 points, 45 ahead of Narine.
Meanwhile, India's R Ashwin is at his career best number six with 686 points, moving above 16 places.
In the rankings for batsmen, Australia's Aaron Finch is in the top spot, though Hales' unbeaten 116 against Sri Lanka helped him take the number two spot. India's Virat Kohli has moved up one place to number three.
ICC T20 Team Rankings
| | | |
| --- | --- | --- |
| Ranking | Team | Points |
| 1 | India | 130 |
| 2 | Sri Lanka | 130 |
| 3 | Pakistan | 120 |
| 4 | South Africa | 119 |
| 5 | West Indies | 115 |
| 6 | Australia | 110 |
| 7 | New Zealand | 107 |
| 8 | England | 101 |
| 9 | Ireland | 85 |
| 10 | Bangladesh | 71 |
ICC T20 Batsmen Rankings
| | | | |
| --- | --- | --- | --- |
| Ranking | Nationality | Name | Points |
| 1 | AUS | Aaron Finch | 892 |
| 2 | ENG | Alex Hales | 834 |
| 3 | IND | Virat Kohli | 821 |
| 4 | NZ | Brendon McCullum | 777 |
| 5 | SL | Kusal Perera | 718 |
| 6 | IND | Yuvraj Singh | 695 |
| 7 | IND | Suresh Raina | 689 |
| 8 | WI | Chris Gayle | 688 |
| 8 | SA | J.P. Duminy | 688 |
| 10 | SL | Mahela Jayawardene | 685 |
ICC T20 Bowlers Rankings
| | | | |
| --- | --- | --- | --- |
| Ranking | Nationality | Name | Points |
| 1 | WI | Samuel Badree | 855 |
| 2 | WI | Sunil Narine | 810 |
| 3 | PAK | Saeed Ajmal | 711 |
| 4 | AUS | Mitchell Starc | 689 |
| 5 | SL | Sachithra Senanayake | 688 |
| 6 | IND | Ravichandran Ashwin | 686 |
| 7 | NZ | Nathan McCullum | 677 |
| 8 | SL | Kulasekara | 669 |
| 9 | PAK | Shahid Afridi | 660 |
| 9 | PAK | Mohammad Hafeez | 660 |