India will join the nations with intercontinental defence capabilities as it is set to test fire Agni-V, a solid fueled intercontinental ballistic missile (ICBM), which can reach deep into Asia and Europe.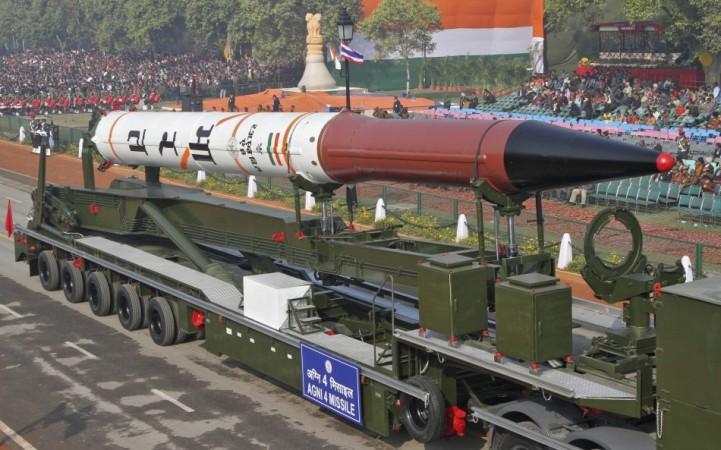 Sources from defence ministry reportedly told Reuters that Indian scientists are preparing to launch the nuclear warhead-enabled Agni V, with a range of more than 5,000 kilometers (3,100 miles), between April 18 and 24.
"India's missile programme is not directed against any country. The missiles are purely for the purpose of deterrence," Ravi Kumar Gupta, a senior scientist and director at the government-run Defence Research and Development Organisation (DRDO) that developed the rocket told Reuters. "No first use has always been our policy," he added.
Dr M Natrajan, a senior defense scientist of India, had said in 2007 that DRDO was working on Agni-V, an upgraded version of the Agni III, and would be ready in four years.
If tested successfully, India will join the nations that are capable of launching long distance missiles. Till now, China, Russia, France, the United States and the United Kingdom, the permanent members of the U.N. Security Council, have ICBM capability.
The Agni-V is an upgraded version of the indigenously built Agni series to be powered by solid rocket propellants. It will meet security concerns of the country.
DRDO has a series of plans on defence in the near future. The submarine-launched ballistic missile (SLBM) is expected to be operational by 1013 and a missile shield to combat drones by 2014. It is also working on quick-launch micro satellites and Star Wars-like laser weapons.
DRDO chief V K Saraswat said in September 2011 that India's most-ambitious strategic missile Agni-V would be test fired in 2012.
Sources said that Agni-V will be tested from Wheeler Island off the Orissa coast. Countries like Indonesia, Australia, international air and maritime traffic in the test zone will be alerted well before the test as the missile will travel halfway across the Indian Ocean.
Agni-V is the fifth in the Agni series. India had earlier successfully test fired Agni-I (700-km), Agni-II (over 2,000-km), Agni-III (3,500 km- 5,000 km) and Agni-IV (of 2,500-3,500 km).
(With Inputs from Reuters)