The harbinger of news that prevailed for generations will cease to exist today. The last telegram will be dispatched on Sunday, 14 July 2013.
The state run Bharat Sanchar Nigam Ltd (BSNL) will shut down the 163-year old telegram service, which used to be once the fastest mode of communication for millions, by 9pm.
"The service will start at 8 am and close by 9 pm tonight," BSNL CMD R K Upadhyay told PTI. "The service will not be available from Monday."
The first experimental telegraph line was established in 1850 between Koklata and Diamond Harbour, and the British East India Company started using it the following year. The iconic service was made available to the public in 1854. Back in those days, the telegraph service was so important that freedom fighters would cut the lines to stop the British from communicating.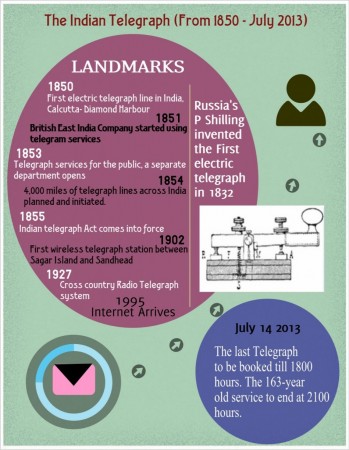 Over the years, digital technology such as internet and mobile phones brought closure to the over-a-century-old service. The telegram service generated a third of the costs required to run and manage it, about ₹100 crore annually. Due to declining revenue the government revised and hiked the telegram charges in May 2011. After a gap of 60 years, telegram charges for inland services were raised from ₹3-₹4 per 50 words to ₹27 per 50 words.
On 11 June, telecom and IT Minister Kapil Sibal announced the shutdown of the service with a 'warm farewell' and said "may be the last telegram sent should be a museum piece".
A month ago, the BSNL employees union protested the shutdown by reasoning that pockets of rural India still use the service. But due to the digital age and instant means of communication, the telegram was nudged out.
There are less than 1000 employees managing the 75 telegram centres in the country. The state-run firm will absorb these employees for its various other services like landline, broadband and mobile services.