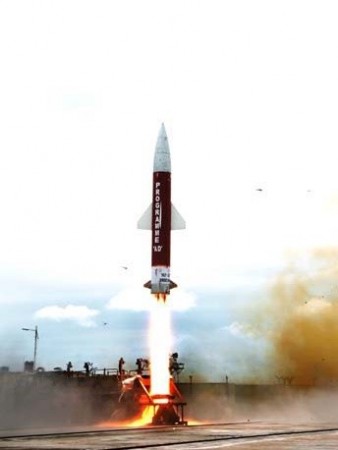 India successfully test fired the nuclear-capable surface-to-surface Prithvi-II missile from the Integrated Test Range (ITR) at Chandipur, Odisha on Monday.
The indigenously-developed ballistic missile was picked up from the production lot and launched from ITR's Launch Complex-III at 9.15 am by the Strategic Forces Command (SFC) of the Indian armed forces, as part of a user trial.
"The missile was randomly chosen from the production stock and the total launch activities were carried out by the specially formed SFC and monitored by the scientists of the Defence Research and Development Organisation (DRDO) as part of practice drill," sources told Press Trust of India.
Prithvi-II missile is already being inducted into the Indian armed forces.
"The missile reached the predefined target in the Bay of Bengal with a very high accuracy - of few metres," test range director MVKV Prasad told IANS. "The test was a hundred percent success."
Army officials and scientists of DRDO, including Programme Director of Prithvi, Adalat Ali and Project Director of Prithvi, N.Siva Subramanyam were present at the the launch event.
Prithvi-II is a liquid-fuelled surface-to-surface short-range ballistic missile (SRBM) developed by Defence Research and Development Organisation (DRDO) under the Integrated Guided Missile Development Programme. It has a range of 350 km, payload of 500 kg to 1000 kg and can deceive anti-ballistic missiles.
After its first test in 1996, Prithvi-II completed the development stages in 2004 before being inducted into the armed forces. It initially has a 250 km range with the capacity to carry a 500 kg warhead but was extended to a 250 km range and payload of up to 1000 kg.
A failed test on 24 September, 2010, was followed by two successful tests in December the same year. Subsequent test firings were conducted in 2011 and 2012, proving high accuracy of the missile.