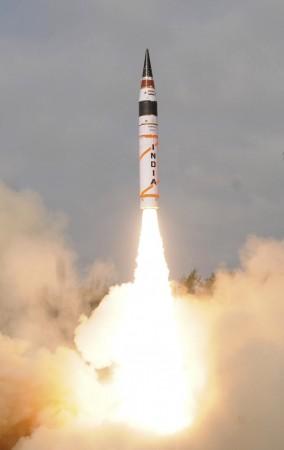 In a step forward in the missile proliferation, India on Thursday successfully test-fired nuclear capable Agni II, 2000 km range ballistic missile, from the wheeler island off the coast of Odisha.
The Intermediate Range Ballistic Missile carrying a ton of dummy payload, was fired from mobile launcher at 8.46 a.m, which achieved a maximum range of 2000 km.
Agni II, Indigenously developed by Defence Research and Development Organisation (DRDO), has already been commissioned into the arsenal of Indian Armed Forces. The development of Agni-II missile had begun in 1979 and it became part of India's Integrated Guided Missile Development Program (IGMDP) in 1983.
Thursday's test fire was carried out by Strategic Forces Command as part of the training exercise to ensure preparedness.
"The two-stage solid-propelled missile followed a text-book trajectory and zeroed in on to a pre-determined target point in the Bay of Bengal with a single to two digit accuracy after a 700-second flight," a top DRDO official told The Hindu.
"The re-entry systems worked well and all other systems functioned perfectly. The electro-optical systems and telemetry stations tracked and monitored the missile's flight path. Two ships stationed in the vicinity of the target point witnessed the terminal event," the official added.
Last month, the Strategic Forces Command also test-fired Agni 1, India's 700 km range ballistic missile. It was a textbook launch, meeting all mission objectives and the missile reached the target point in the Bay of Bengal following the prescribed trajectory.
India has been rapidly developing its missile arsenals and its image as nuclear-armed country surged to a new level after the successful launch of Agni-V, a solid fueled Inter-continental Ballistic Missile (ICBM), in April. Agni-V was a milestone in India's ballistic missile technology, which is capable of reaching deep into Asia and Europe.