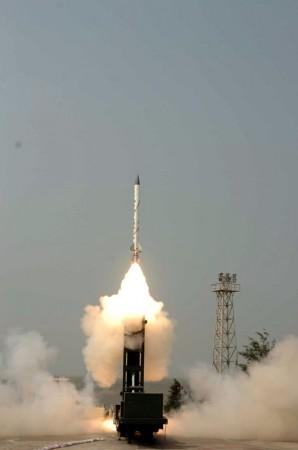 India successfully test-fired it's indigenously developed interceptor missile, AAD-05 from its Integrated Test Range, at Chandipur, Odisha at 10: 10 am Friday.
Defence Research and Development Organisation's Air Defence Missile AAD-05 has successfully hit the ballistic missile and destroyed it at a height of 15 kms off the Coast of Orissa near the Wheelers Island, said a statement by the Ministry of Defence.
The statement also mentioned that, radars located at different locations tracked the incoming ballistic missile. Guidance computers continuously computed the trajectory of the ballistic missile and launched AAD-05 Interceptor Missile at a precisely calculated time. With the target trajectory continuously updated by the radar, the onboard guidance computer guided the AAD-05 Interceptor Missile towards the target missile.
The onboard radio frequency seeker identified the target missile, guided the AAD-05 Interceptor Missile close to the target missile, hit the target missile directly and destroyed it. Warhead also exploded and destroyed the target missile into pieces.
Radar and Electro Optic Tracking Systems (EOTS) have tracked the missile and also recorded the fragments of target missile falling into the Bay of Bengal. It is one of the finest missions where the interceptor has hit the incoming ballistic missile directly and destroyed it at a 15 kms altitude. The mission was carried out in the final deliverable user configuration mode.
India is the fifth nation to have these ballistic missile defence capabilities in the world.
Meanwhile, the Defence Minister A K Antony has congratulated all the scientists for the successful demonstration of ballistic missile defence.