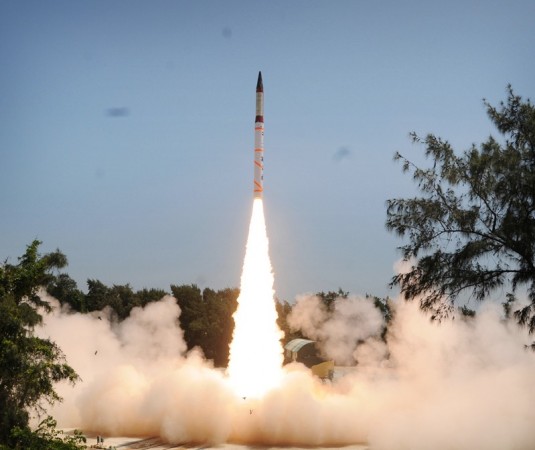 India successfully test-fired Agni-IV, a nuclear-capable surface-to-surface strategic missile with a range of about 4,000 km, from Wheeler Island off the Odisha coast at around 10:52 am on Monday.
"The test firing was a total success. The missile travelled its full range," MVKV Prasad, director of Integrated Test Range (ITR), told PTI.
This was the third successful test for Agni-IV, following the test-fires on 15 November 2011 and 19 September 2012. PTI quoted DRDO chief Avinash Chander saying the missile is "ready for induction."
Weighing 17,000 kgs with a length of 20 meters, Agni-IV is undergoing developmental trials by the Defence Research and Development Organisation (DRDO). Sources said it achieved a full range of 4,000 km during the 20-minute flight on Monday.
"It is equipped with modern and compact avionics to provide high level of reliability," a DRDO official told PTI.
"The state-of-the-art Ring Laser Gyros based high accuracy INS (INS) and Micro Navigation System (MINGS) complementing each other in redundant mode have been incorporated into the missile system in guidance mode," he added.
Equipped with the best technologies, the two-stage missile can be fired from a road-mobile launcher. It is lighter in weight, with a capacity to carry a warhead of 1 tonne.