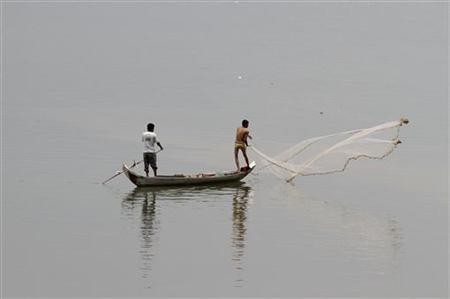 India condemned the killing of a Gujarat fisherman by Pakistan Maritime Security Agency on Sunday.
Calling it a 'shoot-and-scoot' killing by the Pakistan coastal security personnel, and Indian official told ANI, "The killing of unarmed fishermen is unusual." The PMSA has detained fishermen and apprehended their boats in the past but never fired against them.
On Saturday, a PMSA official opened fire on Indian fishing boat 'Dhanvantari', killing a fisherman from Gujarat - Narman Bhai Sosa (30) - while 30 others were allegedly kidnapped from international waters off Jakhau coast.
The kidnapped fishermen were taken away in five boats.
Meanwhile, Gujarat chief minister Narendra Modi had asked the Defence Ministry and Central government to take action in the matter.
"Spoke to (defence minister) AK Antony on Pakistan's action against Gujarat fishermen. Urged him that Centre should take a serious note and investigate it," Modi had tweeted on Saturday.
In the last five years, at least 2,332 Indian fishermen have been detained by Pakistan maritime officials over the violation of maritime boundary. Daily Times reported that the neighbouring country had also released 1,959 Indian fishermen between 2008 and 2013.
In 2008, some 229 Indian fishermen were released, 100 fishermen in 2009. While 454 were released during 2010, 103 in 2011, 680 in 2012 and 393 in 2013.