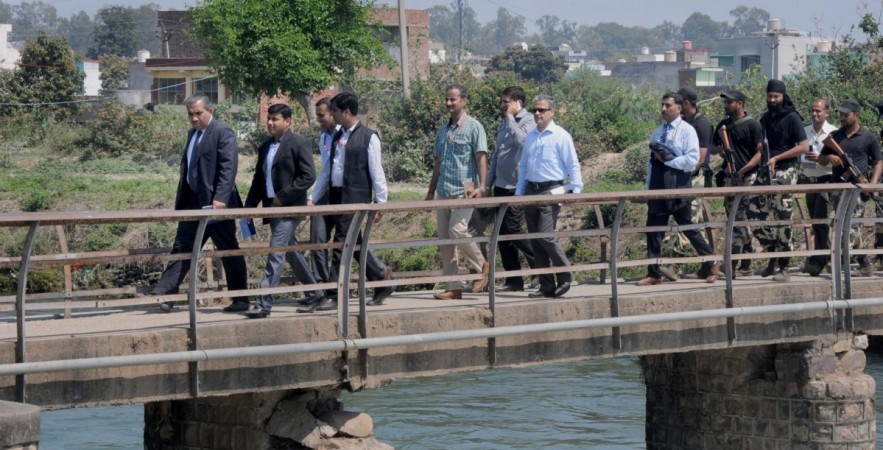 Some sections of the Pakistani media have reported that investigators from Pakistan, who had travelled to India as part of a joint investigation team (JIT) to probe the Pathankot terror attack, claimed Indian authorities had "staged" the attack to malign Islamabad. Pakistan Today cited JIT sources as saying the Indian forces had killed the terrorists "within hours" but turned it into a "three-day drama" to get international attention.
The media reports are likely to worsen the stand-off between the nuclear-armed neighbours over the Pathankot terror attack. India has accused Pakistan-based Jaish-e-Mohammed terror group of perpetrating the Jan. 2 attack at the Pathankot Air Force base that left seven Indian security personnel dead.
However, Pakistani investigators have filed a report claiming Indian authorities failed to establish the attackers entered from Pakistan, according to Pakistan Today. The media report says it has been alleged "the attack was a drama staged to malign Pakistan and persuade the world community that Pakistan is involved in terrorism."
"The JIT has concluded that contrary to the claims of the Indian government about the duration of the encounter, the standoff between the Indian army and alleged terrorists ended within hours of the attack. However, the Indian authorities made it a three-day drama to get maximum attention from the world community in order to malign Pakistan," the JIT report says, according to the Pakistani newspaper. The report will reportedly be presented to Pakistani Prime Minister Nawaz Sharif "in a few days."
Indian officials have taken a contrary stand and said Pakistani officials were convinced of Pakistani terrorists' role in the Pathankot attack. "A section of the establishment may not appreciate reports in Indian media that Pakistani officials were going back home convinced that the attack was perpetrated by Pakistan nationals," an Indian government official told the Times of India.
Relations between Delhi and Islamabad, which had received a boost last year following Indian Prime Minister Narendra Modi's visit to Lahore on Sharif's birthday in December, hit a wall following the Pathankot terror attacks.
Modi also faced flak from the Opposition after his government allowed the Pakistani team of investigators, which included an official of the Pakistan spy agency Inter-Services Intelligence (ISI), to come to India to probe the attack.