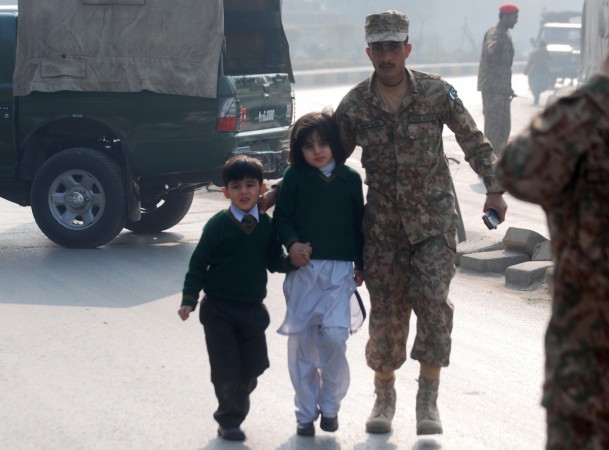 India strongly condemned the terror attack on innocent school children in Pakistan's Peshawar city, with Prime Minister Narendra Modi describing it as a "senseless act of unspeakable brutality."
"Strongly condemn the cowardly terrorist attack at a school in Peshawar," Modi tweeted.
"It is a senseless act of unspeakable brutality that has claimed lives of the most innocent of human beings - young children in their school. My heart goes out to everyone who lost their loved ones today. We share their pain & offer our deepest condolences," the tweet said.
At least 84 children were among a staggering 104 people killed when heavily armed terrorists launched a brazen attack on an army-run school in Peshawar.
Home Minister Rajnath Singh also condemned the attack, and said the "dastardly and inhuman attack exposes the real face of terrorism".
"My heart goes out to the families of those children who got killed by the terrorists in Peshawar. I express my condolences to those families," he said.
External affairs ministry spokesperson Syed Akbaruddin described the attack as "horrific".
In a series of tweets, he said the attack led to feeling of deep revulsion and horror.
"We condemn the horrific attack on innocent school children in Peshawar.
"Our hearts go out to the grief stricken families of the innocent children killed & injured in this barbaric attack in Peshawar.
"Feeling of deep revulsion & horror about this terror attack against innocent children," Akbaruddin said.
Congress president Sonia Gandhi also conveyed her heartfelt condolences to the bereaved families.
A tweet posted by the Congress said Gandhi strongly condemned the dastardly killing of innocent school children by terrorists.
"This barbaric act has caused universal outrage and painfully underscores the threat posed by organised terrorist groups to humankind. We strongly condemn the cowardly attack by Taliban on school children in Peshawar, Pakistan," the party said.