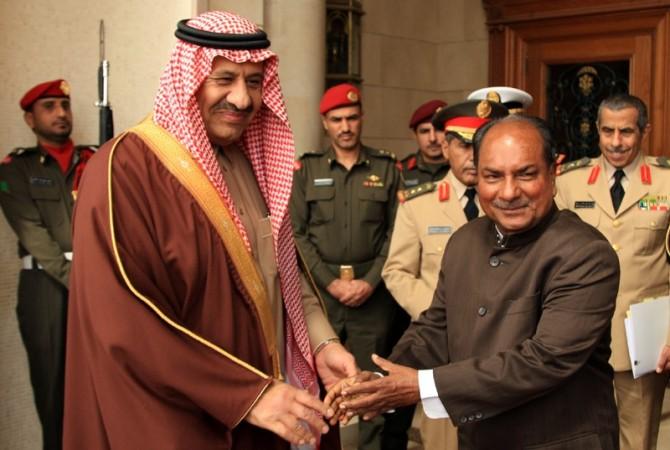 In a bid to boost defence ties between the two countries, India and Saudi Arabia have decided to set up a Joint Committee on Defence Cooperation to work out the details of future defence relationship on Tuesday during a delegation level talk in Riyadh.
The proposed committee will evolve plans for cooperation in numerous areas including the signing of a Memorandum of Understanding (MoU) on defence cooperation, high level reciprocal visits at all levels - political, official and services, ship visits and conducting Passage Exercises during such visits, said a statement by the Ministry of Defence.
The Committee will also explore the possibility of signing a MoU on cooperation in hydrography, increased participation in training programmes on both sides and examine the possibility of cooperation in defence industries.
Expressing concern at the spread of piracy in the Indian Ocean Region, Union Defence Minister A.K. Antony suggested that the navies of the two countries could explore practical cooperation in the fight against piracy and an active role of the Royal Saudi Navy in the Indian Ocean Naval Symposium (IONS) construct. Antony's suggestion was readily accepted by his Saudi Arabian counterpart, Prince Salman Bin Abdul Aziz Al Saud.
Reviewing the security situation in the Gulf Region, the two sides agreed that all issues need to be settled through peaceful dialogue.
Antony also suggested that a Saudi delegation be sent to India in the near future to see its defence production facilities and Prince Salman accepted it.
The prince also accepted an invitation from Antony to visit India later this year.
It's the first ever visit by an Indian Defence Minister to Saudi Arabia.
The Indian delegation was led by the Defence Minister A.K. Antony and the Saudi delegation by his counterpart Prince Salman Bin Abdul Aziz Al Saud. The Indian delegation included the Defence Secretary Shashi Kant Sharma, the Indian Ambassador Hamid Ali Rao, Vice-Chief of Army Staff Lt Gen S.K. Singh, Deputy Chief of Naval Staff Vice Admiral Satish Soni and Air Vice Marshal M.R. Pawar.