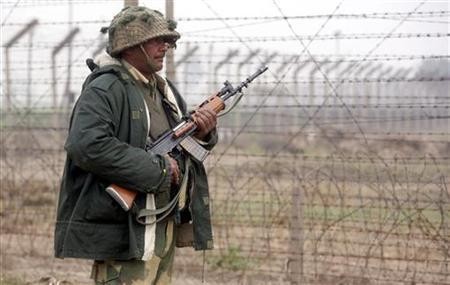 The incidents of ceasefire violations on India and Pakistan border have been on the rise especially this year.
At least 136 incidents have been recorded in 2013 said a defence spokesperson according to Zee News.
The latest was on Monday night where Pakistani rangers resorted to heavy shelling at 16 posts of Border Security Force in Samba district in Jammu. Two Indians were injured in the firing.
Pakistani army has reportedly fired at least eight times in past 24 hours, using small arms, rockets and mortars.
The incidents are being taken seriously by the Government of India as the Chief of Army General Bikram Singh met Defence Minister A K Antony to brief on the incidents of ceasefire violation along the Jammu and Kashmir (J&K) border.
The firings have drawn a strong response from Chief Minister of J&K Omar Abdullah who told the Indian armed forces to give a "befitting response" to these skirmishes.
Prime Minister of India Manmohan Singh and Prime Minister of Pakistan Nawaz Sharif met in US last month and agreed that the Directors General of Military Operations (DGMOs) of both the nations will hold talks to address the situation of ceasefire violations and arrive at maintaining peace on the Line of Control (LOC).
However, the reports of skirmishes have been on the rise.
Sharif had then appealed to US seeking an intervention to resolve the border issue between India and Pakistan, which was refused by both US and India saying that it was a bilateral issue.
Home Minister Sushil Kumar Shinde visited a few areas along the border on Tuesday to review the security situation in the wake of the ceasefire incidents.
Indian army had also launched an anti-infiltration operation in Keran along the Indo-Pak border last month to prevent militants from entering into the Indian Territory from Pakistan.
India and Pakistan inked a ceasefire agreement in November 2003 post Kargil Conflict.
The territorial issue of Jammu and Kashmir dates back to 1947 since independence. India and Pakistan have fought two wars in 1965 and 1971 over the two states. The skirmishes since 1984 led to a full scale Kargil Conflict in 1999.