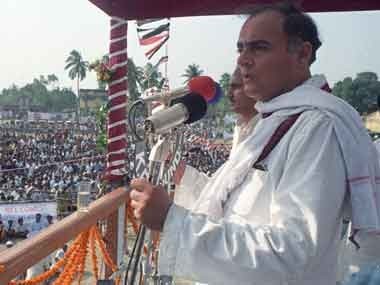 India remembered former Prime Minister Rajiv Gandhi on Wednesday on his 23rd death anniversary. He was assassinated in Sri Perumbudur near Chennai by a Sri Lankan suicide bomber at an election rally on 21 May 1991.
Several leaders, including President Pranab Mukherjee, Vice-President Hamid Ansari, outgoing PM Manmohan Singh, Rajiv's widow and Congress president Sonia Gandhi paid floral tributes at Vir Bhumi in Delhi at 6.20am.
Prime Minister-designate Narendra Modi also paid his tributes to Rajiv on his Twitter account.
Congress vice-president - and son of Rajiv and Sonia - Rahul Gandhi, his sister Priyanka Vadra and husband Robert Vadra also paid tributes to the former PM.
Several children also offered floral tributes at the venue, while other youths were seen holding the tricolour around the martyr's memorial. "Shanti Mantra' was recited to commemorate the anniversary of the late leader.
On the occasion, a speech of Rajiv, regarding preserving the nobility of institutions, was played.
Those who paid tributes to Rajiv also included former home minister Sushilkumar Shinde, former finance minister P Chidambaram, Congress MP Shashi Tharoor and outgoing Urban Development and Parliamentary Affairs minister Kamal Nath, Delhi Pradesh Congress Committee (DPCC) president Arvinder Singh Lovely, Haryana Chief Minister Bhupinder Singh Hooda and Congress CLP leader Haroon Yusuf, according to media reports.
14 others were killed at the election rally in Chennai suburbs, along with Rajiv. The assassination was carried out by Thenmozhi Rajaratnam, alias Dhanu. It was established that the suicide attack was planned and executed by the Sri Lanka-based Liberation Tigers of Tamil Eelam (LTTE), headed by late Velupillai Prabhakaran.
The Indian Supreme Court ruled that LTTE eliminated Rajiv who had stated in an interview to a magazine that if he comes to power, he would send Indian Peace Keeping Force (IPF) to Sri Lanka to eradicate LTTE movement in the Island nation.